best coolsculpting atlanta
BEST COOLSCULPTING ATLANTA
NON-INVASIVE FAT REDUCTION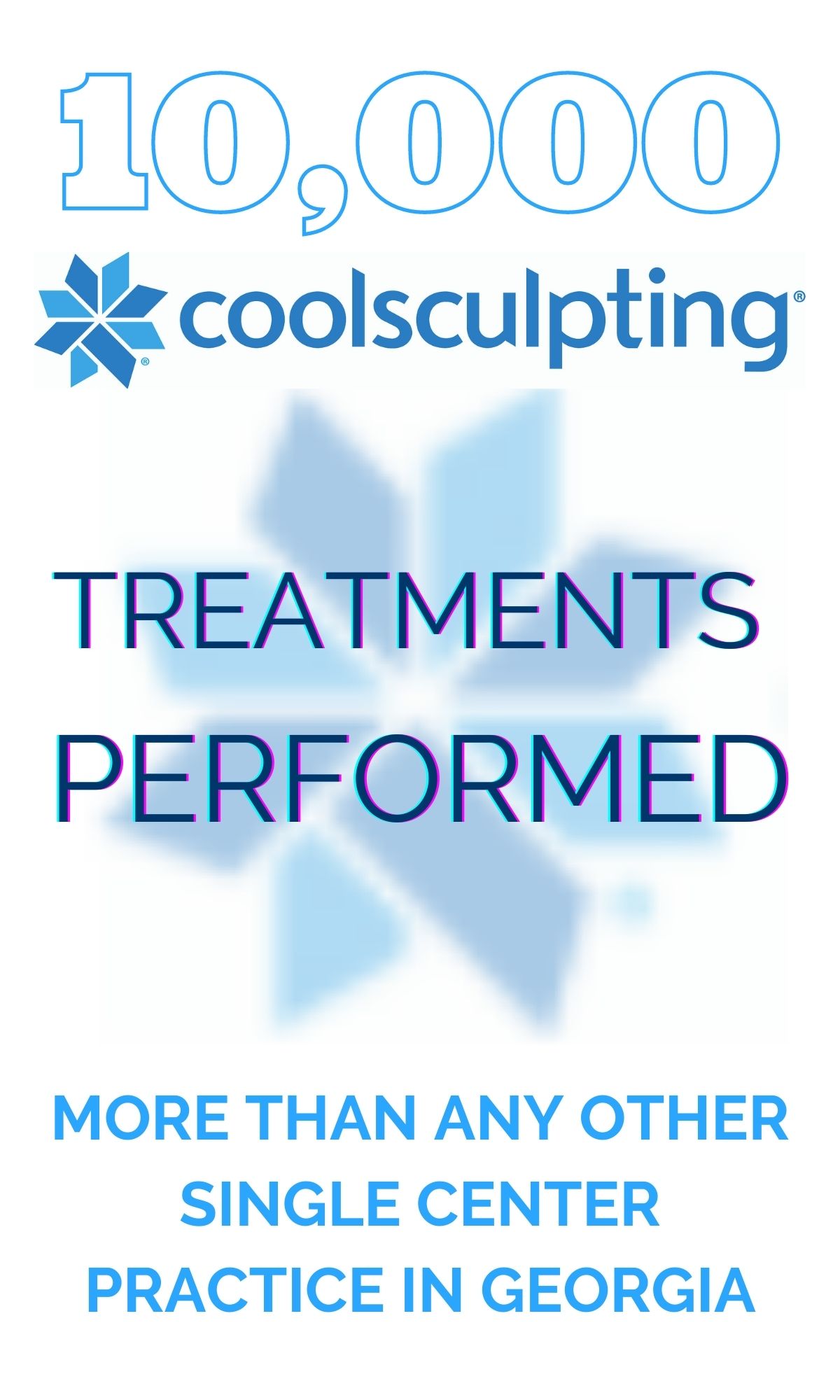 Over 10,000 CoolSculpting Procedures Performed
Top Volume CoolSculpting Georgia Practice 2014-2021
Highest Level Diamond Practice Designation Multiple Awards
Former CoolSculpting Trainer Leading Our Team
CoolSculpting Certified Practice
CoolSculpting University Training
CoolSculpting MASTER'S Level Training
4 CoolSculpting Machines | Faster CoolSculpting
Luxury Private Suites | HDTV | Luxury Furnished
Outside View Large Windows In Every Room | 6th Floor Overlooking Atlanta Skyline

Best of City Awards 2015, 2016, 2017, 2018, 2019, 2021
What Is CoolSculpting? 
CoolSculpting is a revolutionary proven fat freezing treatment which eliminates fat from your body naturally, safely, without surgery or any downtime.  Best of all, the results are long lasting! You can freeze and ELIMINATE fat cells without surgery. Not only will a treatment of CoolSculpting reduce a treated area, but it will reduce the number of fat cells in the treated area. When fat cells are eliminated, they do not come back. With less fat cells to store fat, the areas treated are smaller, thinner and flatter than before treatment.
CoolSculpting was developed by Harvard scientists, this FDA-cleared procedure uses a controlled cooling process to kill the fat cells that are under the skin, literally freezing them to death. This is performed by placing special treatment applicators on the specific areas you want to slim down. Each treatment takes 35 minutes to 75 minutes depending on the applicator selected that best fits your body.
Once the fat cells are frozen, they naturally die and are eliminated from your body.  Once they are gone, those fat cells do not come back.  With proper diet and a healthy lifestyle the results you achieve with CoolSculpting are long lasting.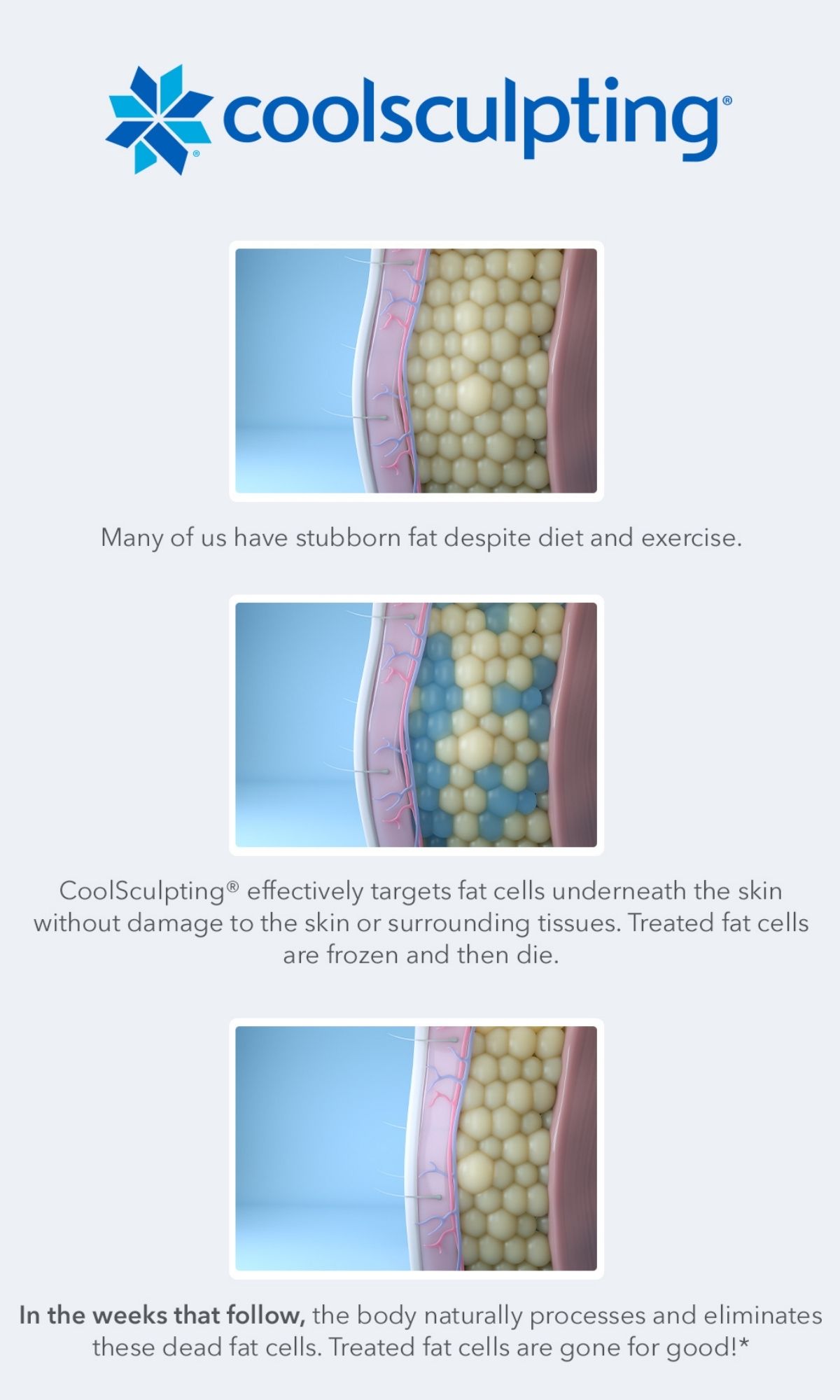 WHAT CAN YOU EXPECT DURING A COOLSCULPTING TREATMENT?
During your CoolSculpting treatment at Sculpted Contours Luxury Medical Aesthetics, you can watch TV, work on your computer or tablet, talk on the phone or just unplug from the world and enjoy your own private luxury treatment room. Many clients even drift away and take a relaxing nap during their CoolSculpting treatment.
There is no downtime with CoolSculpting. You can come in during the day and head straight back to work or even to the gym right afterwards. At Sculpted Contours we have two dedicated CoolSculpting suites and FOUR CoolSculpting systems in one location. We can reduce the amount of time you need to treat multiple areas by treating them at the same time. Instead of treating one side for an hour and the other side for another hour, we can treat both sides at the same time! This allows you truly sculpt away your unwanted fat over a lunch hour!  Having two rooms allows us to schedule your procedure even faster.  Usually within a couple of days of your consultation, you are on your way to a slimmer you!  
CoolSculpting at Sculpted Contours is performed by our EXPERT STAFF that trained at CoolSculpting University on the newest protocols and treatment applicators. We are the ONLY Center in Atlanta, GA with a former CoolSculpting trainer leading our team.  Our entire team is trained daily by former CoolSculpting trainer, Kathy King, assuring we give you the absolute best results possible.