#1 CoolSculpting Fat Reduction Center in
Atlanta & alpharetta, GA
NON-INVASIVE FAT REDUCTION AT SCULPTED CONTOURS
CoolSculpting ELITE "the new generation of cool"
Not everyone has it, but WE DO!!  
As a top CoolSculpting provider in Atlanta and Alpharetta, GA, it's important to us to ensure we offer all the latest technology and protocols so YOU get the very best treatment and results.  CoolSculpting ELITE updates the treatment applicators to a new wider cup design giving a 18% larger treatment area for every spot treated.  That's EXTRA results for you.  The same 35 minute treatment time but from a system designed from the ground up to produce the best results and provide the most comfortable treatment possible.  
Our systems allow for treating 2 areas of your body at the same time and with a new sleek design, even more dual treatments than ever before are possible.  This can reduce the amount of time it takes to complete your procedure.  
SAME GREAT COOLSCULPTING NOW WITH ELITE BENEFITS! 
The Most Advanced CoolSculpting
CoolSculpting is a revolutionary proven fat freezing treatment which eliminates fat from your body naturally, safely, without surgery or any downtime. Best of all, the results are long lasting! You can freeze and ELIMINATE fat cells without surgery. Not only will a treatment of CoolSculpting reduce a treated area, but it will reduce the number of fat cells in the treated area. When fat cells are eliminated, they do not come back. With less fat cells to store fat, the areas treated are smaller, thinner and flatter than before treatment. CoolSculpting was developed by Harvard scientists, this FDA-cleared procedure uses a controlled cooling process to kill the fat cells that are under the skin, literally freezing them to death. This is performed by placing special treatment applicators on the specific areas you want to slim down. Each treatment takes 35 minutes to 75 minutes depending on the applicator selected that best fits your body. Once the fat cells are frozen, they naturally die and are eliminated from your body. Once they are gone, those fat cells do not come back. With proper diet and a healthy lifestyle the results you achieve with CoolSculpting are long lasting.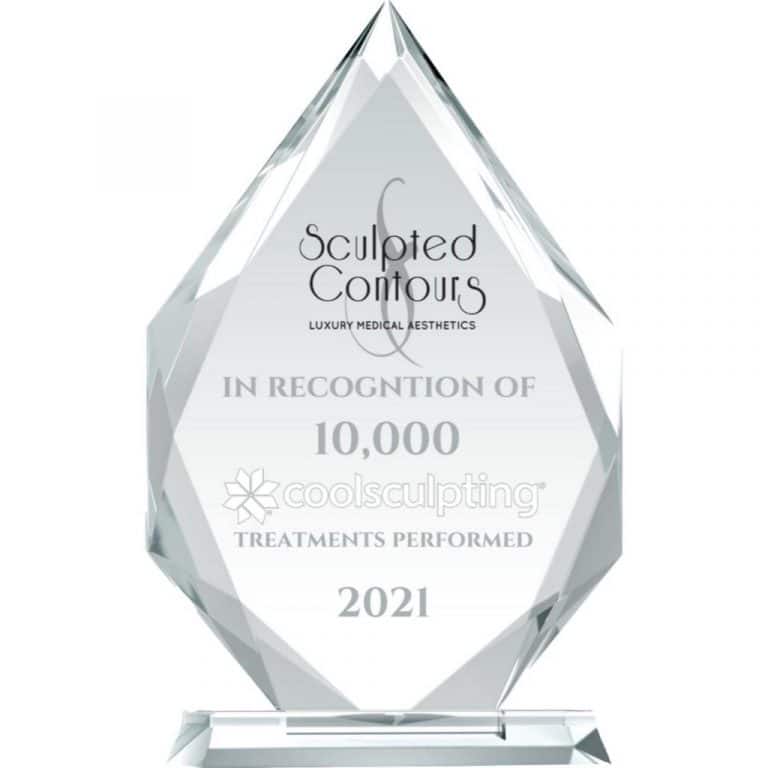 OVER 12,000 COOLSCULPTING PROCEDURES PERFORMED
WHAT CAN YOU EXPECT DURING A COOLSCULPTING ELITE TREATMENT?
During your CoolSculpting procedure in the top luxury Alpharetta MedSpa at Sculpted Contours Luxury Medical Aesthetics, you can watch TV, work on your computer or tablet, talk on the phone or just unplug from the world and enjoy your own private luxury treatment room. Many clients even drift away and take a relaxing nap during their CoolSculpting treatment. CoolSculpting procedures at our Alpharetta MedSpa are truly comfortable and even feel like a relaxing day at the spa!
There is no downtime with CoolSculpting. You can come in during the day and head straight back to work or even to the gym right afterwards. At Sculpted Contours we have two dedicated CoolSculpting suites and FOUR CoolSculpting systems including 2 CoolSculpting ELITE dual systems in one location. We can reduce the amount of time you need to treat multiple areas by treating them at the same time. Instead of treating one side for an hour and the other side for another hour, we can treat both sides at the same time! This allows you truly sculpt away your unwanted fat over a lunch hour! Having two rooms allows us to schedule your procedure even faster. Usually within a couple of days of your consultation, you are on your way to a slimmer you!
CoolSculpting at Sculpted Contours in Alpharetta, GA is performed by our EXPERT STAFF that trained at CoolSculpting University on the newest protocols and treatment applicators. We have the latest CoolSculpting ELITE technology for even better results! We are the ONLY Center in Atlanta, GA with a former CoolSculpting trainer leading our team. Our entire team is trained daily by former CoolSculpting trainer, Kathy King, assuring we give you the absolute best results possible.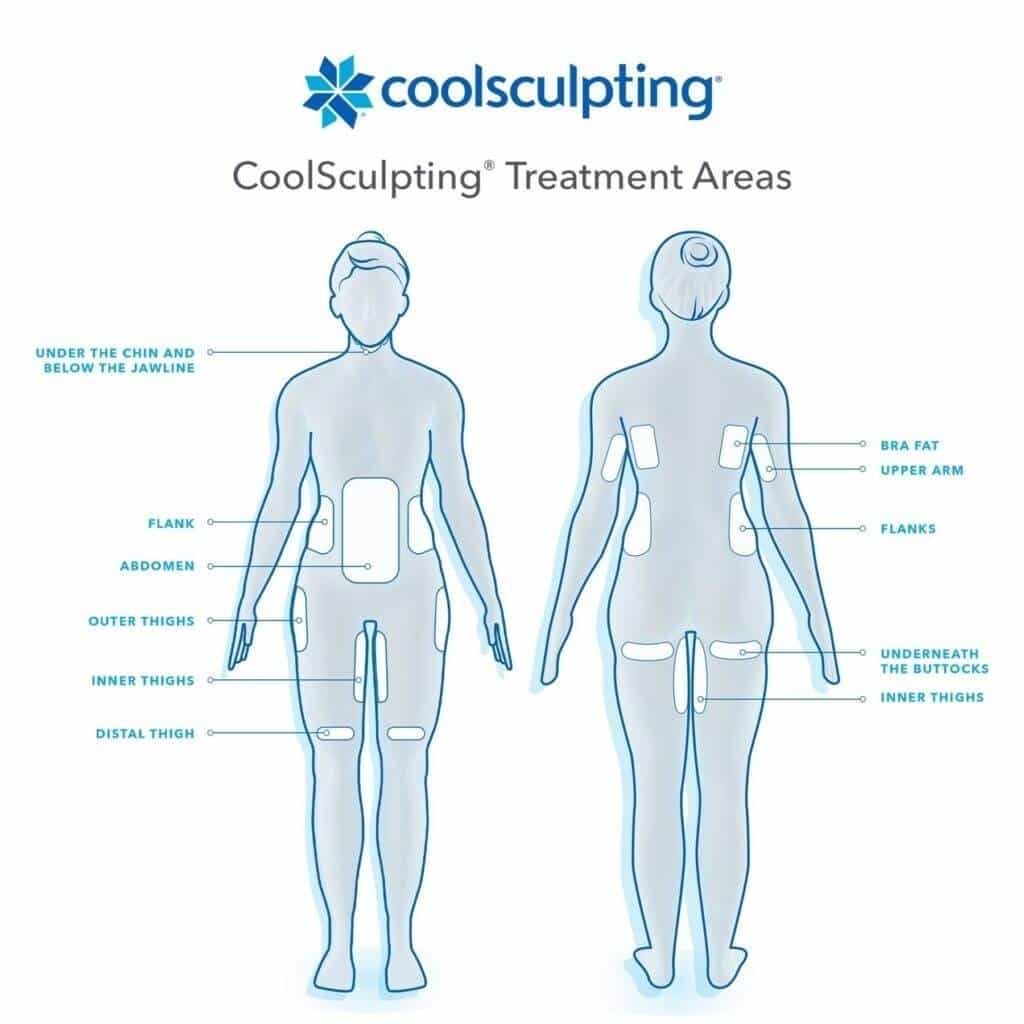 WHAT AREAS CAN BE TREATED WITH COOLSCULPTING ELITE?
COOLSCULPTING TREATMENT PLAN
Every body is different and each of our clients has their own areas that concern them the most. We work with you to develop a customized treatment plan just for you. Our goal is to help you achieve the body of your dreams. Our expert team develops a customized treatment plan based on our advanced level CoolSculpting protocols to ensure you get the very best results.
We have every treatment applicator available including the newest CoolSculpting ELITE technology applicators. Not every CoolSculpting Center chose to upgrade to this new technology so make sure you are choosing a center that has invested in the procedure so you get the best results. Having every available applicator really makes a difference and allows us to treat almost any person and almost any area of the body effectively with CoolSculpting.
We have advanced protocols for FASTER CoolSculpting Results! Combining fat reduction procedures of CoolSculpting and TruSculpt iD plus TruSculpt FLEX for muscle enhancement reduce fat by freezing & heating with RF to kill fat cells for elimination and boost your metabolism during a series of intense muscle building treatments.  We literally watch people MELT away their fat in just weeks!  
Most treatment plans recommend 2 treatments of the same area eight weeks apart.  Not everyone needs 2 treatments or even wants a 2nd treatment based on the results they achieve.  But let's face it, most of us have more than just a little bit of fat we want to eliminate.  With an average reduction of 20% of the thickness of the fat layer up to about 1″ thick with each treatment, that 2nd round is what gets you from "yes I see a change", to "WOW that really made a difference."
We don't charge you up front for the 2nd treatment.  You pay for that when you come back in after 2 months.  
Why? 
First, your treatment plan might change as you get smaller from the first treatment.  Second, the Alle' rewards program from the CoolSculpting company gives you a gift card to use on your next procedure, but only if you haven't already paid for it. Third and best of all….we give you a significant discount on the 2nd time (or more) that you've treated the same area.  This discount along with your multi-area treatment package discount can result in a 60% savings off the regular price.  Then you get to use your Alle' rewards gift card as partial payment resulting in the MOST AFFORDABLE CoolSculpting treatment.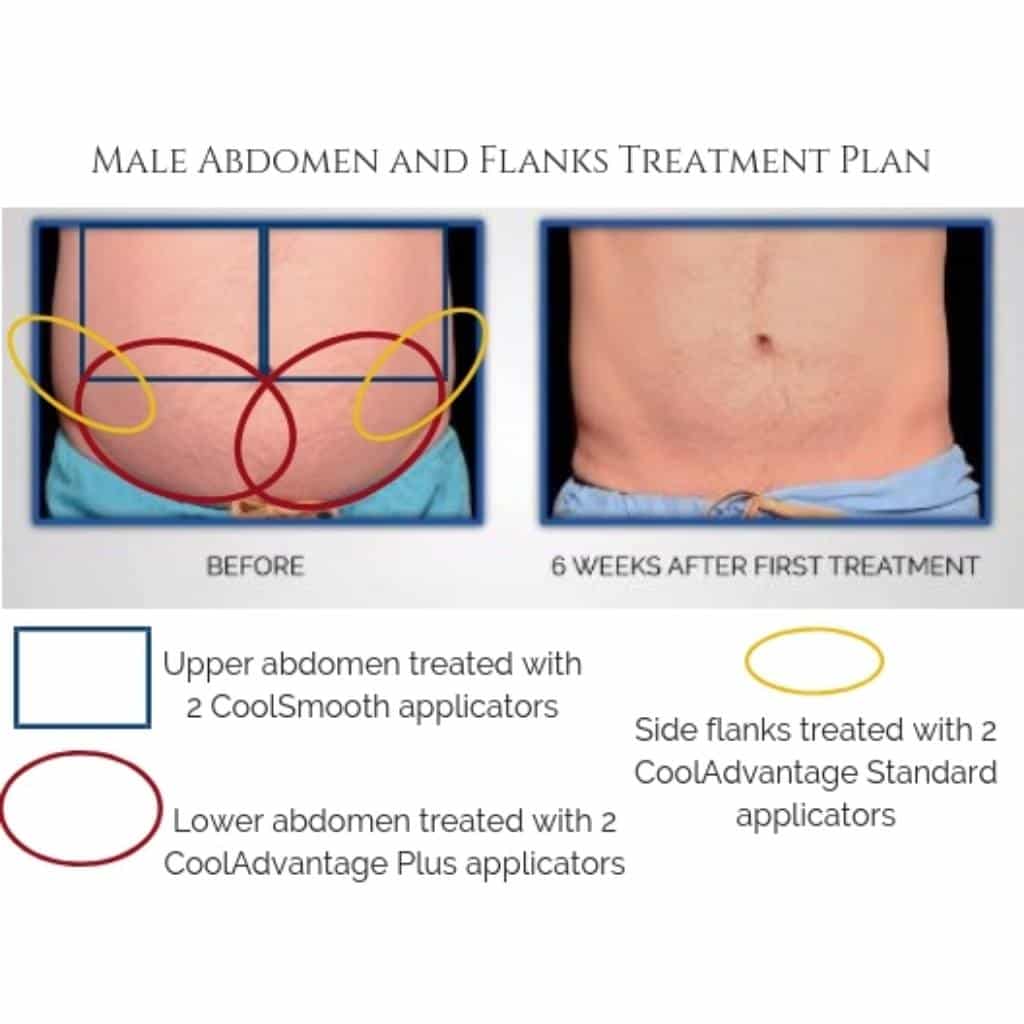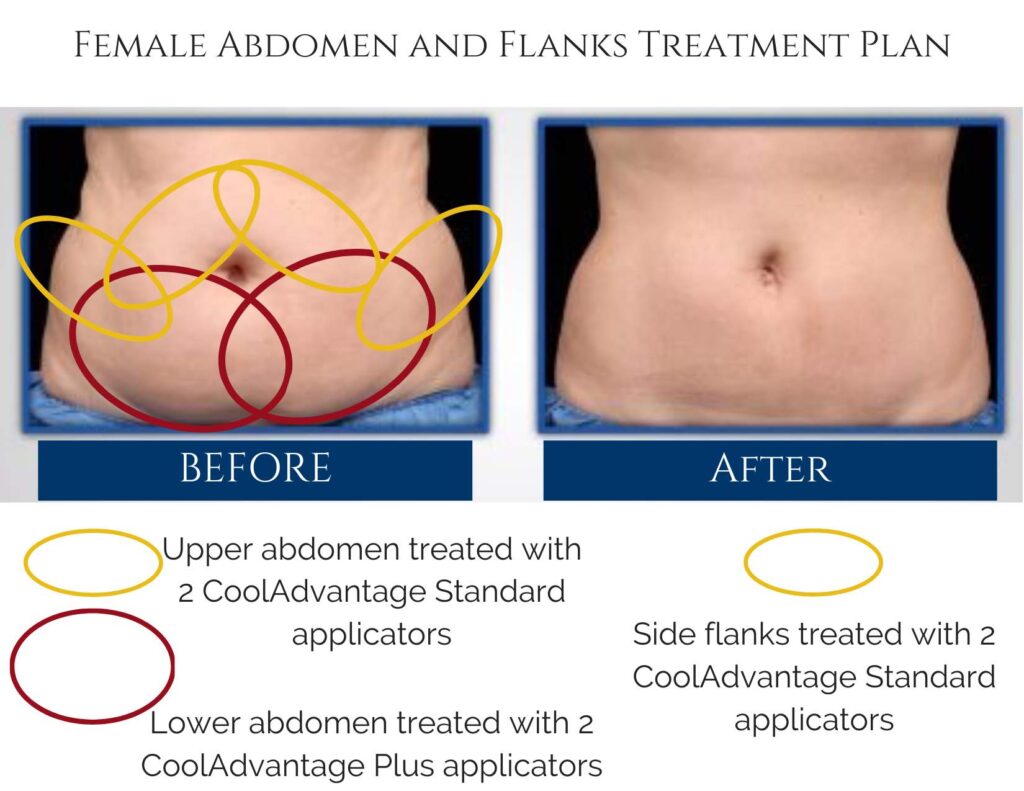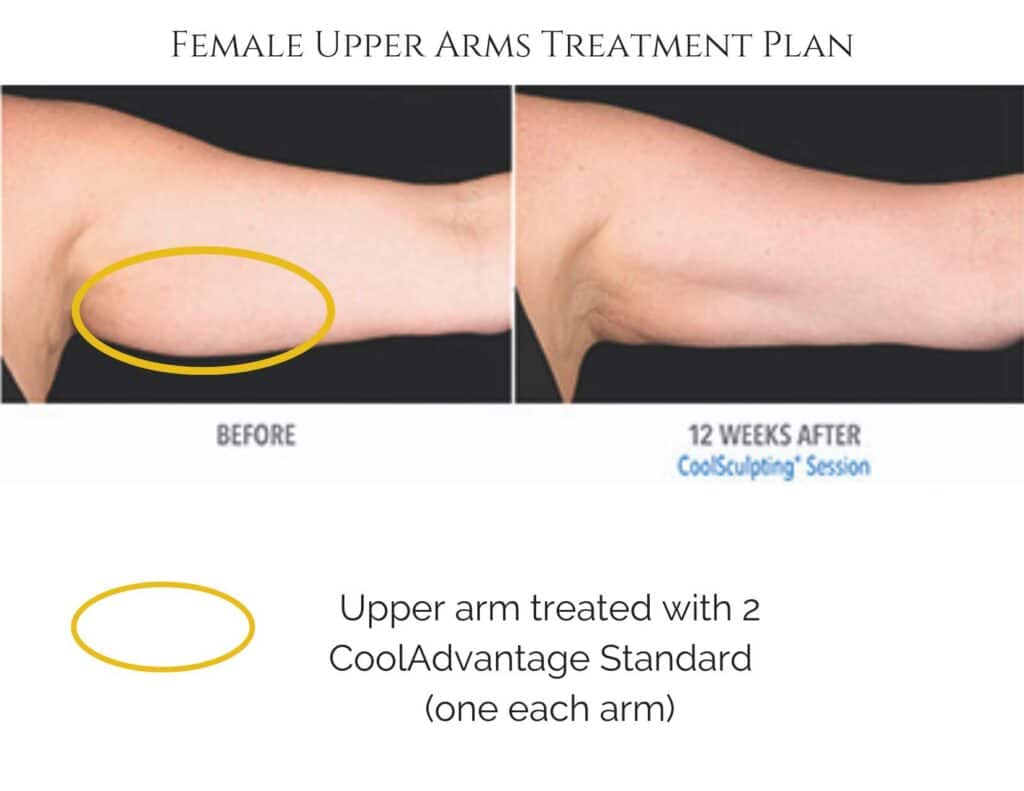 To See More Treatment Plans and Cost and Understand How CoolSculpting Can Treat You.sn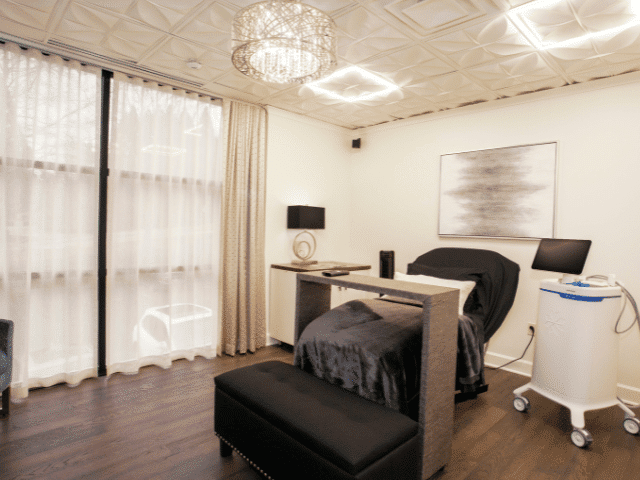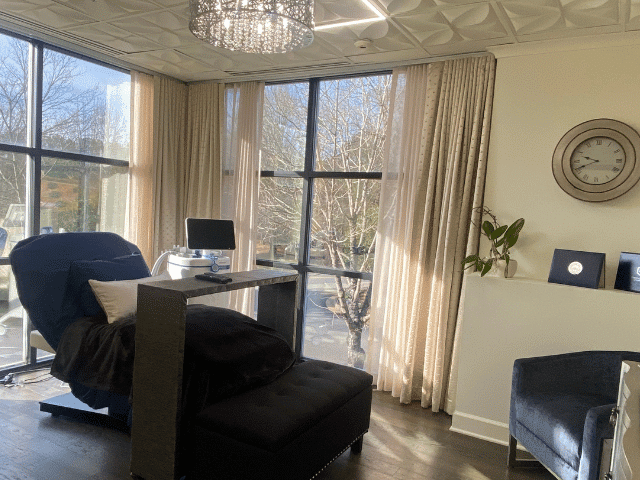 When we opened our doors our intent was to provide an exceptional experience and location for anyone having a CoolSculpting treatment. Our rooms are luxury appointed and look more like a 5 star hotel room than a procedure room. Every detail is intended to pamper you and make your day with us comfortable and relaxing.
No other center in the Southeast has procedure rooms like ours. With a full wall of windows that overlook the beautiful trees surrounding our Alpharetta office.  You will never feel cramped or stuck in a small space. We use 400 thread count sheets and plush blankets and pillows to ensure you are comfortable and wrapped in a luxury feeling the entire time you are with us.
Your private CoolSculpting suite includes an HDTV with options of NetFlix or regular cable TV Music Channels or Smart TV options. The office has high speed Wi-Fi if you need to work or want to surf the internet during your procedure. Your private suite has all the amenities you need.
Whether you are spending the entire day with us or just a short time treating one area, you'll be glad you chose the luxury center at Sculpted Contours Luxury Medical Aesthetics.
Does CoolSculpting Really Work?
Yes, it does and the results can be amazing when the procedure is performed by EXPERT CoolSculpting Providers.
Sculpted Contours is the #1 CoolSculpting Practice in Atlanta, Alpharetta and the State of Georgia based on our Volume of procedures in the last 9 years since we opened our doors.
We have performed OVER 12,0000 procedures in the last 9 years; all in a single location!
We have a former CoolSculpting Trainer leading our team of clinical experts. All staff that perform any procedure have a medical license in the State of Georgia. Every staff member has completed CoolSculpting Certification training and advanced level training under Kathy every day. You are in good hands with us!
We have the latest CoolSculpting ELITE technology which has new applicators with even larger treatment areas for each size and a smaller flat panel to treat smaller areas of non-pinchable fat. The options to treat even more areas and get improved AND FASTER results come only with CoolSculpting ELITE.
We are committed to helping you achieve the best CoolSculpting results in Georgia. Our Alpharetta luxury medspa will pamper you while you have your CoolSculpting treatment.
Our CoolSculpting clients come from all over Atlanta including Buckhead, Dunwoody, Brookhaven, Johns Creek, Alpharetta, Sandy Springs, Roswell, Cumming, Peachtree City, Inman Park as well as many states around the country.
Because of our experience, we are the go to Center in the Southeast for CoolSculpting.
As the highest volume center in Georgia, we do CoolSculpting ALL DAY, EVERY DAY!
TRUST YOUR RESULTS TO THE EXPERTS!

CALL TO SCHEDULE YOUR CONSULTATION TODAY 404.872.8578