Toned and Tight Abdomen Fat Reduction in Alpharetta, GA
Many men and women struggle to reduce stubborn belly fat. You know the little bulge that keeps you from having a fat stomach and changes the clothes you wear to cover it up. You eat well at least most of the time, you work out or stay active but still, there it is…that little pooch or maybe it's now a bigger pooch than you want or even a "spare tire"!
How To Reduce Stubborn Fat on Your Abdomen
Finding an effective way to reduce fat on your abdomen can feel impossible. Especially when you are already doing all the right things and not seeing results. If you are ready to reduce some stubborn fat on your abdomen, we are here to help.
Non-invasive procedures that reduce fat on the abdomen make slimming down easy! They work hard so you don't have to. These procedures really work and without surgery, incisions, or ANY downtime you can be back to your regular activities right away.
Now that's more like it!
More time in the gym? Who has time for that?
Reduce Calories Even More? Eat What?
Salad 24/7?
Surgery? NO WAY!!
Advanced Body Contouring For Reducing Fat On The Abdomen
Looking good and feeling comfortable in your clothes or out of them, can all be accomplished with the cutting edge technology and advanced body contouring treatment protocols at Sculpted Contours Luxury Medical Aesthetics. We have the technology and protocols to combine therapies to give you flat, sexy abs.
The ABC Protocol Begins With Fat Reduction
CoolSculpting on the Abdomen is our main procedure we use for reducing fat. CoolSculpting of the abdomen effectively eliminates those areas of stubborn fat on the upper or lower abdomen. Any area from your pelvis to your ribs can be effectively reduced with CoolSculpting.
CoolSculpting targets and freezes fat. By freezing fat cells, CoolSculpting triggers a natural elimination process to occur. That stubborn pooch on your belly disappears without surgery or scars left behind. In fact, this CoolSculpting Abdomen treatment is so simple you can fit it into your busy life easily. Unless you tell them, no one will know you have done anything except diet and exercise. When the CoolSculpting results start showing, you will want to show off your sculpted, slim abdomen to everyone.
TruSculpt iD is another procedure that effectively and permanently eliminates fat on the abdomen or anywhere on the body. TruSculpt iD has the highest energy of any Radio Frequency Fat Reduction Procedure available. RF energy at this level not only permanently eliminates fat, it also tightens skin at the same time. TruSculpt iD has smaller, flat hand pieces that are able to fit areas that can't be treated with CoolSculpting.
If you are trying to get those toned muscles or even looking to build on the muscle you already have, TruSculpt Flex is the procedure for you. TruSculpt Flex is the newest aesthetic muscle-building procedure. Utilizing 3 different workout modes, TruSculpt Flex can tone, enhance, strengthen and build muscles in 4 to 6 treatments over 2-3 weeks. More muscle continues to burn more fat as your body naturally needs more fuel for its increased muscle mass. This result of added muscle further enhances your fat reduction on the abdomen.
Schedule Your Personal Consultation Appointment With One Of Our Expert Aesthetic Providers.
Find Out If The ABC Protocol Is Right For You. We Can Customize Your Protocol For Sculpted Toned Beautiful Abs!
Find the Best Procedure For Loose Abdomen Skin
Loose skin on the abdomen happens with age, after having children, or after weight gain and loss. We have the leading non-invasive procedures and can tighten the skin on the abdomen. You can expect to see tighter skin again in just a few months after any of our skin tightening procedures. Our procedures are energy-based to target the deeper layers of the skin. The body's natural healing process produces new collagen in the areas treated causing lifting and tightening of the skin.
Some procedures are completely non-invasive and reduce the crepiness and mild wrinkling of the skin on the abdomen. Other procedures are minimally invasive for more advanced needs of skin tightening. These procedures produce more results over time but have some downtime and recovery. None will significantly interfere with your normal activities. Only a consultation appointment with one of our expert clinical providers can determine which procedure would give you the results you want. Schedule your consultation appointment with us today to see what body skin tightening procedure for your abdomen would be right for you.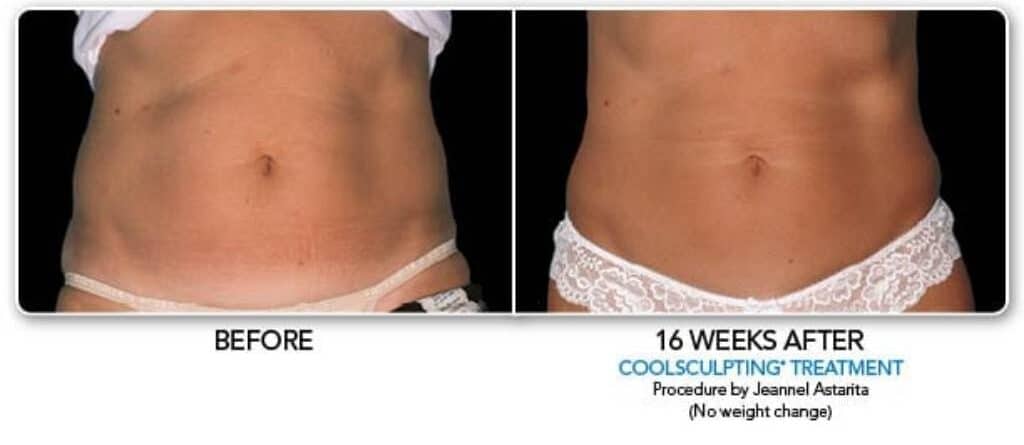 These are typical CoolSculpting Results. Real Patients, Real Results and Untouched photos. Individual CoolSculpting Results May Vary.
Our expert staff will provide you with a customized treatment plan addressing any concerns you have by combining therapies when needed for maximum results. We work with you and recommend your specific plan to give you the results you are looking for.
All of our procedures are done in a private, luxury treatment room in our new Alpharetta office fully appointed with the most comfortable beds and furnishings. Many of our clients say our medical spa is the best spa in Alpharetta.
Sculpted Contours Luxury Medical Aesthetics is committed to helping you achieve the results you want to see. Our expert staff is constantly trained and certified on all our procedures to provide the most comprehensive treatment protocols and best results. If you are ready to experience a new level of the aesthetic treatment plan, schedule your consultation appointment with us.
Advanced Body Contouring Abdomen procedures
TRUST YOUR RESULTS TO THE EXPERTS!

CALL TO SCHEDULE YOUR CONSULTATION TODAY 404.872.8578