ABOUT OUR LUXURY MEDSPA CENTER IN ALPHARETTA, GA
BEST OF THE CITY 2015, 2016, 2017, 2018, 2019, 2021 and 2022!
We opened the doors to our flagship Buckhead location in October of 2014. In just a few short months, we were recognized by The Atlantan Magazine for our luxury environment and specialty body and facial sculpting center. To be named Best of the City in Body Sculpting shows our commitment to being the BEST and something we take very seriously. It also reminded us why we created this luxury center in the first place; YOU were looking for it! Since 2014, we have continued striving to exceed your expectations and put your results as our top priority.
We have won Best of the City every year since we opened. Plus, we have been awarded the highest designation (Diamond) from CoolSculpting numerous times since we opened. We were awarded Diamond Level based on total number of CoolSculpting procedures done. We are in the top 40 out of over 6,000 CoolSculpting Centers in the Nation.
In the Summer of 2022, we moved our medspa to Alpharetta to better serve the north Atlanta area clients that expect a luxury environment and expert trained staff for their aesthetic procedures.  Our new office is custom designed with our procedures and YOU in mind.  You'll be amazed at the extras we've added to create the environment YOU DESERVE.  
LUXURY you deserve, EXPERIENCE you demand and RESULTS you desire
We really mean it when we say LUXURY you deserve, EXPERIENCE you demand and RESULTS you desire. Thank you Atlanta for recognizing Sculpted Contours Luxury Medical Aesthetics. Located in Alpharetta, GA, Sculpted Contours is easily accessible from anywhere in the Southeast. Our center provides you with superior service & incredible luxuriously furnished spa-like rooms for your comfort & enjoyment.
Your private, luxury treatment suite has all the comforts of a five star spa. The little details make all the difference. During your treatment we offer spa snacks or for longer procedures a light breakfast or lunch as well as other special touches no other center provides.
In each procedure suite you'll find: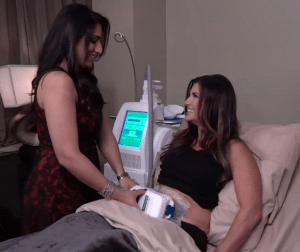 Enjoy your private space to catch up on email, important phone calls, work or home projects, or Facebook while you have some of our longer procedures! We have phone and iPad chargers in case you forget to bring yours. Your private luxury suite even has beautiful views perfect for day dreaming or just relaxing views of the natural landscaping surrounding our office. Perhaps you would prefer to unplug from the world, drift away and relax. We've specially chosen the most comfortable spa-like beds for your treatments. Whether you choose to work, watch TV or take a nap, these beds provide a comfortable place to do it all.
Sculpted Contours is the only practice in Georgia with FOUR CoolSculpting systems in one location. Two of those are dual CoolSculpting ELITE systems, so we can treat up to 10 areas at the same time IF we used all our systems.  We can use multiple systems to treat more than one area at the same time and have you back home or back to work in less time than it would take at other practices. While we can't always use more than one system to treat your areas at the same time, most of our patients are able to treat two areas at the same time called DUAL-SCULPTING and many of our patients have had THREE areas treated at the same time, called TRI-SCULPTING. This cuts your total treatment time to 1/3 of a practice that only has one system. If your schedule is super busy and you need to get back to it in less time, Sculpted Contours is THE place to get your CoolSculpting. We have all the newest CoolSculpting Systems CoolSculpting ELITE with ALL the newest Applicators to treat every area of your body.
TRUST YOUR RESULTS TO THE EXPERTS!

CALL TO SCHEDULE YOUR CONSULTATION TODAY 404.872.8578