How to Eliminate Your LOVE HANDLES & Muffin Top Without Surgery in Alpharetta, GA
THE ABC PROTOCOL FOR Removing excess Fat around your waist
Advanced Body Contouring (otherwise known as The ABC Protocol of the Muffin Top or Love Handles can reduce or eliminate the fat bulges you see in the mirror.
Excess fat on the sides around the waist or just below it causes a loss of the natural shape of your body. For women, the natural shape is an hourglass with the waist curved in and symmetrical appearance above and below it. For men, that natural shape is a deep V shape. The shoulders and upper back are wider and taper down to the lower back.
These areas are the hardest areas to lose in most people trying to exercise and diet to get rid of those bulges. As a matter of fact, many people that are in great shape and work out regularly have those bulges around the lower waist they just can't get rid of.  Losing fat around the waist is one of the hardest areas to manage with diet and exercise alone.  Don't worry though, we've got you covered!   
BEFORE & AFTER Fat REduction Of Love Handles
All of our procedures are done in a private, luxury treatment room with a treeline view outside our Alpharetta office.  The rooms are large and spacious and fully appointed with the most comfortable beds and furnishings. When you are looking for the best medspa in Alpharetta, come to Sculpted Contours Luxury Medical Aesthetics!
The Luxury You Desire, The Experience You Demand, The Results You Deserve
Sculpted Contours is committed to helping you achieve the best results of any procedure!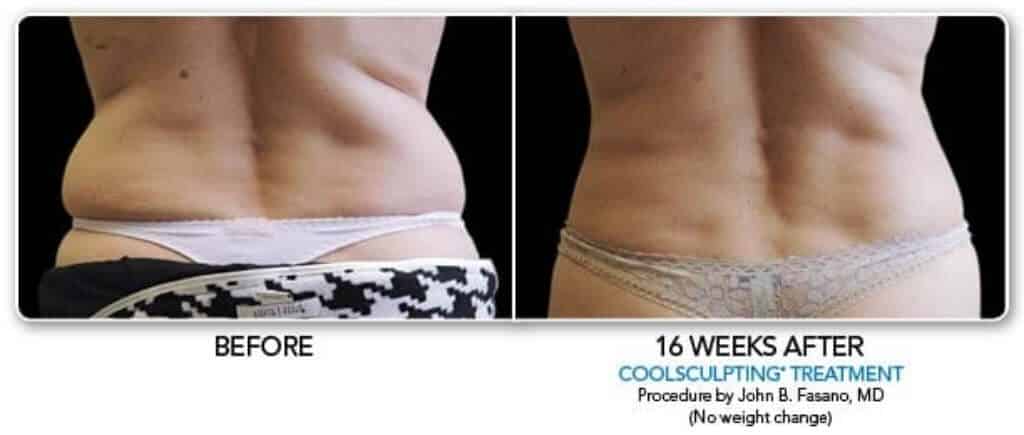 These are typical results from CoolSculpting. Real Patients, Real Results & Untouched photos. Individual Results May Vary.
NON INVASIVE PROCEDURES FOR FLANKS AND MUFFIN TOP
If the shape of your body is not what it's supposed to be, come in and see if one of our Advanced Body Contouring modalities is right for you. If you want to get that great hourglass or V shape back again, Sculpted Contours can help you. We can determine which modality or combination is right for your specific needs and concerns.
Whether it's the world's number one non-invasive procedure CoolSculpting or other non-invasive energy-based procedures like truSculpt iD, adding in TruSculpt FLEX to build those oblique muscles (plus your abs all in one procedure) and even Morpheus 8 Skin Tightening if needed to really "snatch you waistline in. Here at Sculpted Contours in Alpharetta, GA, we can customize your ABC Protocol to fit your body, your needs and your results.
advanced body contouring procedures for flanks
TRUST YOUR RESULTS TO THE EXPERTS!

CALL TO SCHEDULE YOUR CONSULTATION TODAY 404.872.8578