TRUSCULPT FLEX for men Build Muscle for a sculpted Physique IN ALPHARETTA, GA
Are you a man looking to build and tone muscle without the hassle of intensive workouts? Welcome to TruSculpt FLEX, the ultimate solution for men seeking to enhance their physique and boost their strength. 
For men, Body Contouring needs to include building muscle too. Whether you are already slim and trim and want more muscle definition or need some fat reduction too, the most advanced muscle sculpting system TruSculpt Flex can get you toned and defined.
Whether you are trying to slim down or just enhance the muscle you already have, TruSculpt FLEX for men can be just the solution. This POWER HOUSE muscle building procedure gets your body burning more fat as it builds and tones muscles. Using an advanced treatment protocol, the combination of fat reduction procedures for men  and muscle building can enhance the results of each procedure.
TruSculpt FLEX will enhance, define, tone and build muscle all without hours in the gym! TruSculpt FLEX works your muscles in the targeted areas at a level your body cannot achieve on its own. You'll notice tighter muscles even after your first treatment. 
With TruSculpt FLEX you can treat your Abdomen with Obliques, Butt, Quadraceps (front of thighs), Hamstrings (back of thighs) and Calf muscles on the Legs and Biceps & Triceps on the Arms. 
Understanding How TRUSCULPT FLEX Works Muscles
TruSculpt FLEX is a cutting-edge, non-invasive muscle toning treatment that's revolutionizing the way men sculpt their bodies. It uses innovative Multi-Directional Stimulation (MDS) technology to target multiple muscle groups simultaneously. Using a proprietary software and varying stimulation modes, TruSculpt FLEX works out muscles without a workout!  This technology is used by athletes to gain muscle or rehab muscles after an injury.  Its used by physical therapists and doctors to help people recovery from injuries.  Now its used in aesthetics by anyone interested in boosting their work out routine by adding direct muscle stimulation treatment.
How Is TRUSCULPT FLEX Different?
TruSculpt FLEX adjusts to your body shape and fitness level and even your fitness goals.
The Multi-Directional Stimulation Modes work out your muscles with different movements, depths and intensity at a level greater than you can achieve working out on your own. This increased intensity causes the muscles being treated to adapt and develop creating more strength, tighter tone and increased muscle mass and definition.
Three treatment modes in the same session simulate different workouts by replicating intensified twisting, squat and crunch actions all during one 45 minute INTENSE workout.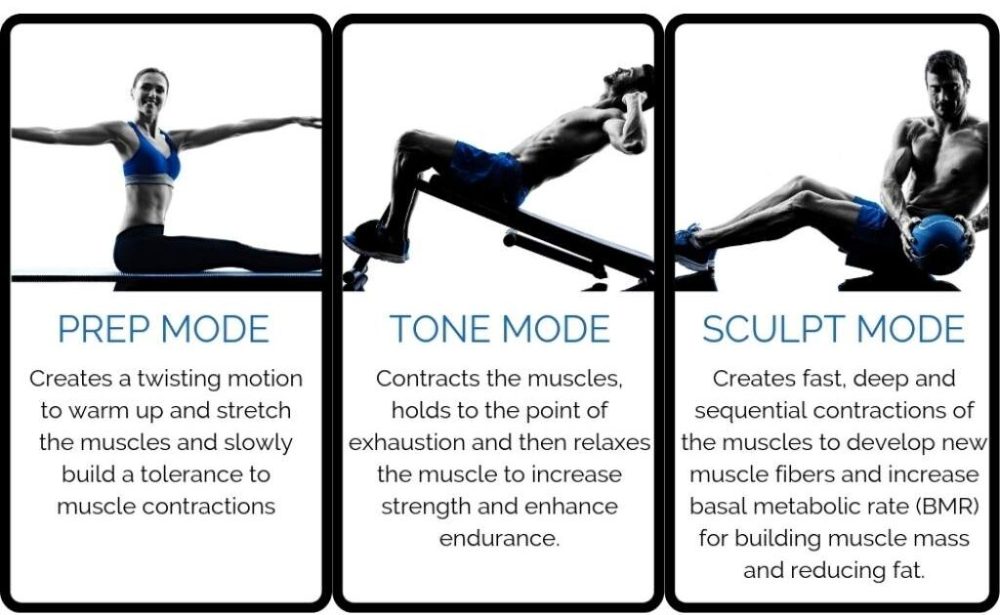 What areas can be treated with TruSculpt FLEX
NO MATTER WHERE YOU ARE CURRENTLY WITH YOUR FITNESS ROUTINE AND GOALS, TRUSCULPT FLEX CAN TAKE YOUR EVEN FURTHER!
For men that engage in regular workouts but are not getting the results you desire, TruSculpt FLEX can push you to another level by working out your muscles without wasting energy. 
If your busy life or an injury have left your workouts inconsistent, TruSculpt FLEX can get you back on track again.  With quick muscle gains without a strenuous workout, you'll see TruSculpt FLEX results in just a couple of months. 
No matter what your current fitness level, TruSculpt FLEX can help you gain muscle and strength.  
TruSculpt FLEX can help you build muscle mass after a series of 4 to 6 high intensity sessions. Maintenance Treatments range from once month to once every 3 months depending on the amount of muscle you want to gain as well as your own workouts in between.
All workouts are customized to the intensity level each person can handle. As your TruSculpt FLEX workouts progress, you'll naturally increase the intensity you can handle. The higher the intensity, the more muscle gains you'll see.
TruSculpt FLEX RESULTS COME QUICKLY!
Muscle Toning, Firming and Building for men with TruSculpt FLEX shows results in just a few short weeks. Depending on your current fitness level and goals, full results are achieved within 2- 3 months time. Fat reduction continues as your body's fat burning furnace fuels the needs of your new muscle mass. Typically, after 4-6 weeks you will start noticing results which will continue to improve. We push you to achieve higher and higher intensity during each treatment, but you determine how high you go.  Just remember the higher your intensity, the better your results.  This is the time to PUSH YOURSELF to achieve the most. you can from this procedure. 
NO DOWNTIME WITh trusculpt FLEX for Men. Get right back in the gym or right back to your lifFe!
TRUST YOUR RESULTS TO THE EXPERTS!

CALL TO SCHEDULE YOUR CONSULTATION TODAY 404.872.8578