Forma Plus: RF Body Skin Tightening in Alpharetta, GA
FORMA PLUS: NON-INVASIVE RADIO FREQUENCY (RF) SKIN TREATMENT
Forma Plus is a radio-frequency (RF) procedure that helps stimulate new collagen to improve overall appearance and texture of the skin.  A series of Forma treatments will improve skin tone and elasticity for lasting results and improvement.
Forma Plus is a procedure that can be used on all skin types. If you are seeking non-invasive procedures to give you NATURAL results Forma could be for you. Most of our clients tell us they feel younger and their skin is tighter, more toned and has less fine lines and wrinkles.
Forma Plus can be used on the Arms, Lower and Upper Abdomen and Knees or anywhere you have slight crepey loose skin you want to see firmer and tighter. 
Forma Plus is actually an enjoyable procedure and virtually painless. During treatment, you should feel a heat sensation. There is zero downtime and you will see slight pinkness or redness just after the procedure. It should subside very quickly within a few hours.
Our Experts can give you their recommendation on the number of treatments you will require. Typically it is weekly appointments each week for 4-6 weeks.
The results seen are typically a reduction in crepey skin and folds in skin which results in a smooth contour. For more significant skin laxity, Morpheus 8 Skin tightening treatments or a combination of Forma Plus and Morpheus 8 can be used to see significant improvement and long lasting results.  Our expert clinical team can assess the areas you are most concerned with skin laxity and determine the best treatment option for you to see the results you desire.  
Call to schedule a personal consultation with our team today.  404-872-8578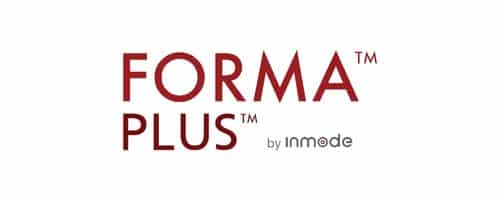 TRUST YOUR RESULTS TO THE EXPERTS!

CALL TO SCHEDULE YOUR CONSULTATION TODAY 404.872.8578