TruSculpt iD is the strongest energy frequency of Radiofrequency for Aesthetic Procedures.
This increase in energy 
Reduces time of the treatment in each area 
Reduces the number of treatments needed for an area
Reduces more fat by penetrating deeper under the skin. 
We call it the Triple Threat!
TruSculpt iD is a safe clinically proven procedure that permanently eliminates stubborn fat cells in the abdomen, flanks, arms, legs, and double chin.  In addition to fat reduction, RF energy is proven to tighten the skin.  So in one single procedure, you can reduce fat and tighten skin in the area.
Radio Frequency Fat Reduction
This procedure is versatile and effective to treat a wide range of patients who may not be a candidate for other contouring procedures due to treatment location, skin type, fat thickness and presence of skin laxity. The great thing about this procedure is there is very little discomfort compared to other RF procedures. Most people would compare it to a hot stone massage.
TruSculpt ID allows up to 6 applicators to be used simultaneously. This reduces the time it takes perform the treatment so you are able to treat multiple areas during one short appointment. Depending on the number of areas you are treating, procedures may be divided into more than one appointment.
There are several applicator types including the hands-free and a single applicator "hands on" used to treat more precise areas but allow for only one area to be treated at a time. There is also a mini size applicator to use in small tight spaces or over smaller pockets of fat (like under the chin). Each applicator gives the same great fat reduction results.
Our expert clinical staff can just offer a precision treatment customized to you by using the different applicators.
Every Person is Different | Your Treatment Plan will be customized to You
Depending on your truSculpt iD procedure recommendation you can expect to have between 1-2 sessions.  For those wishing for aggressive results on the legs (if a candidate) up to 3 sessions might be required.
Results Come Quickly!
Similar to any other non-invasive fat reduction treatment that causes fat cells to die, it takes 3 months to get your full results.  Typically after 4-6 weeks you will start noticing results which will continue to improve up to three months after treatment.  You'll come back in for follow up photos and assessment of additional treatments after 3 months.
No Downtime!
There is little to no downtime with TruSculpt ID treatments.  Get back to your regular routine right away, you can even work out after this procedure.  No one will know you had anything done.  You can expect the skin in the areas treated to be slightly pink to red for an hour or two after the treatment.  You may experience slight swelling, tenderness or even some firmness for a few days to 2 weeks after the procedure.
Full Thigh Reduction 
One area women are always asking to treat are their thighs. Until now, procedures to reduce fat on the entire thigh or improve the appearance of cellulite have provided limited results and required a series of 6 or 8 weekly treatments and not right for many women. With TruSculpt ID, you can see circumferential thigh fat reduction in 1 treatment on the entire front, side, and back of the thighs. Additional treatments may be necessary depending on the thickness of the fat and the amount of reduction you want to see.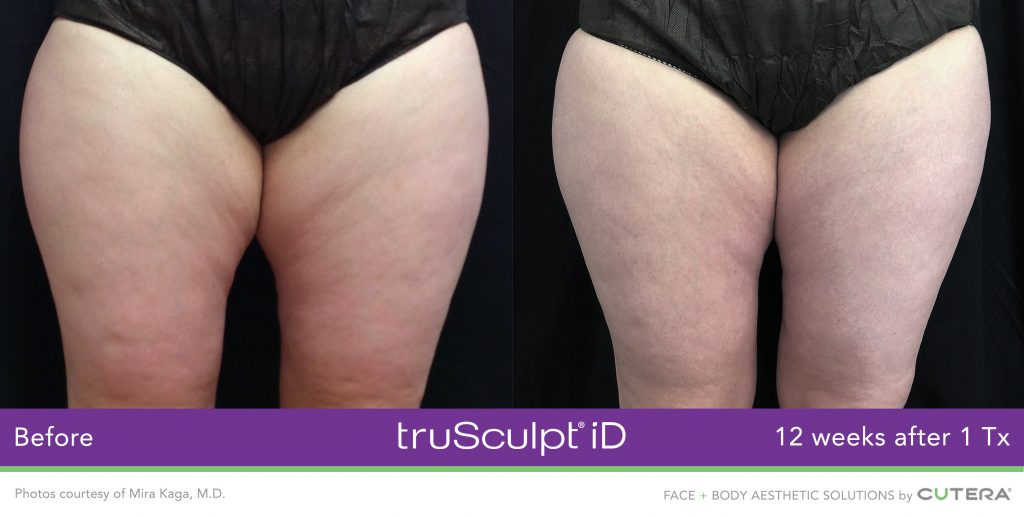 Real Patients | Real Results | Individual Results May Vary