Non-invasive procedures to reduce double chin fat
Your face is the first thing people see when you meet them.  Don't let your double chin fat be the first thing they notice. CoolSculpting Neck procedure will slim and trim down the fat layer on average 20% with each treatment.  In most people that is enough to define their jaw and get rid of the double chin in just one treatment.
Don't worry, if you have more, CoolSculpting can manage that too.  Sometimes it just requires an additional treatment to achieve the FULL RESULTS you want.  Your personal consultation appointment will include measurements of any area you want to slim down and a personalized treatment plan that will target and reduce that area to REACH YOUR GOALS.  Whether that's a little or a lot, it's not a problem; CoolSculpting can do that!  We even have a program just for those that want "Just a Little Bit More"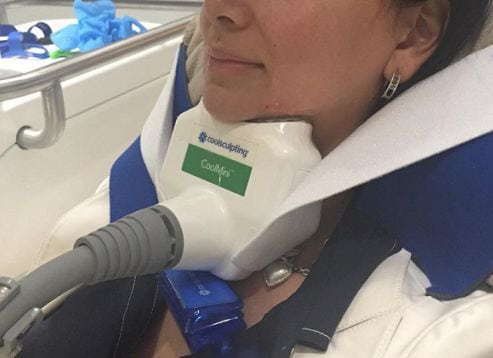 CoolSculpting Neck Procedure
Without needles, surgery or any incisions AT ALL CoolSculpting Double Chin treatment is the simpliest way to reduce fat under the jaw.  In a 45 minute treatment, the CoolSculpting device effectively freezes the fat causing those fat cells to die.  Over the next 2-3 months your body eliminates the excess cells and fat from your double chin. 
You can expect some mild swelling in the area that lasts a few days, but it's barely noticeable at all.  Unlike some other procedures that cause extreme swelling or require you to wear a compression strap for weeks after.  There is no way to hide that!
With over 9 million CoolSculpting procedures performed world wide as of 2020, the results are undeniable.  The procedure is both simple and effective with no downtime and no long recovery afterwards.  
CoolSculpting Double Chin Results
The results are gradual appearing similar to diet results you could expect over the next 12 weeks as the fat layer reduces when the fat cells are eliminated from your body naturally.  You don't need to do anything, just sit back and watch that double chin get smaller and smaller over the next 3 months.
So what about multiple treatments with CoolSculpting chin? It's the same as any other area of the body, if you want more results, you have another CoolSculpting treatment in the same area. The FDA studies for CoolSculpting on the double chin included two treatments in the area for full results. The treatment only included the area directly behind the chin.  Since that time, we are able to treat along the entire jaw line and by doing so a double treatment just behind the chin.  We've seen more than  one person that a single treatment on either side of their jaw line with the double area in the middle be just enough to fully reduce the double chin with CoolSculpting.
RESULTS
Isn't that what it's really about?
Double Chin Before and After
Loose Skin Under Chin After CoolSculpting
What about the skin?  Sometimes that area is more than just fat. Loose skin isn't fat, it doesn't feel like fat and it isn't treated like fat. CoolSculpting results take up to 12 weeks to complete, so your skin has time to retract and tighten over the area while the area is shrinking. If you already have loose skin, reducing the fat won't fix that. There are other procedures including Ultherapy, Fractora and Forma that heat the deep layers of the skin to lift and tighten we use after CoolSculpting if needed.
If you are ready to have a full defined jaw line you can show off to the world, CoolSculpting can do that!  Sculpted Contours Luxury Medical Aesthetics has expert CoolSculpting providers in our high volume, luxury treatment center to ensure your CoolSculpting results are the BEST.  We use the latest techniques, proven through our own experience to get you the results YOU WANT.
Trust your results to EXPERTS that perform CoolSculpting ALL DAY, EVERY DAY.  WE have two exclusive CoolSculpting treatment suites and FOUR CoolSculpting systems in one location.  We can get you in for your CoolSculpting treatment quickly and when treating multiple areas can get you out up to FOUR times faster than other practices that only have one CoolSculpting system.  We are here for YOU!!
Double chin fat redcution
COOLSCULPTING

This fat-freezing procedure is the only FDA-cleared,* non-surgical fat-reduction treatment that uses controlled cooling to eliminate stubborn fat
learn more
ULTHERAPY

Ultherapy® is the ONLY FDA-cleared, non-invasive procedure that lifts and tightens the neck, chin and brow, and improves lines and wrinkles on the chest
learn more
FORMA

Stimulates the formation of new collagen and improves the skin's elasticity for long-lasting and remarkable results on smaller areas
learn more
FACTORA

Fractional radio-frequency treatment providing anti-aging improvements on skin tone and texture through ablation and skin resurfacing
learn more