Non-Invasive Fat REduction with TruSculpt iD
So you are interested in a non-invasive fat reduction treatment and found TruSculpt iD and want to know more.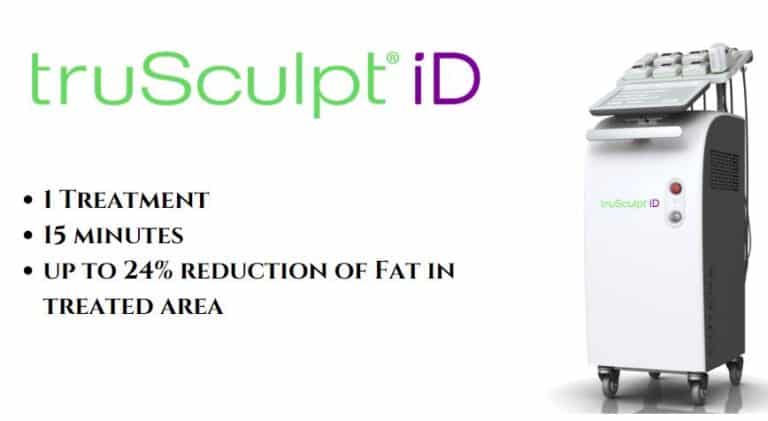 What is TruSculpt iD Radiofrequency Fat Reduction?
TruSculpt iD is a completely non-invasive procedure that emits RF (radiofrequency) energy deep into the fat layer through small 2" x 2" handpieces. RF energy then deep heats the fat stored in the fat cells and causes apoptosis (natural cell death). Over the next 8 to 12 weeks your body naturally eliminates the fat and fat cells leaving the treatment area slimmer with less fat and long term results due to less fat cells remaining.
How does TruSculpt iD work?
TruSculpt iD uses small flat handpieces that are placed directly on the skin in the desired treatment area. RF energy is emitted from those handpieces deep into the fat layer below the skin. This deep heating causes the fat cells that are in the area to die and after 3 months the result is a thinner fat layer and thinner YOU! The RF energy targets the fat cells but also promotes collagen production, which can result in improved skin texture and tightness. The procedure is mostly comfortable, with heat delivered into the treatment area over a 15 minute period at a level that is tolerable to most people.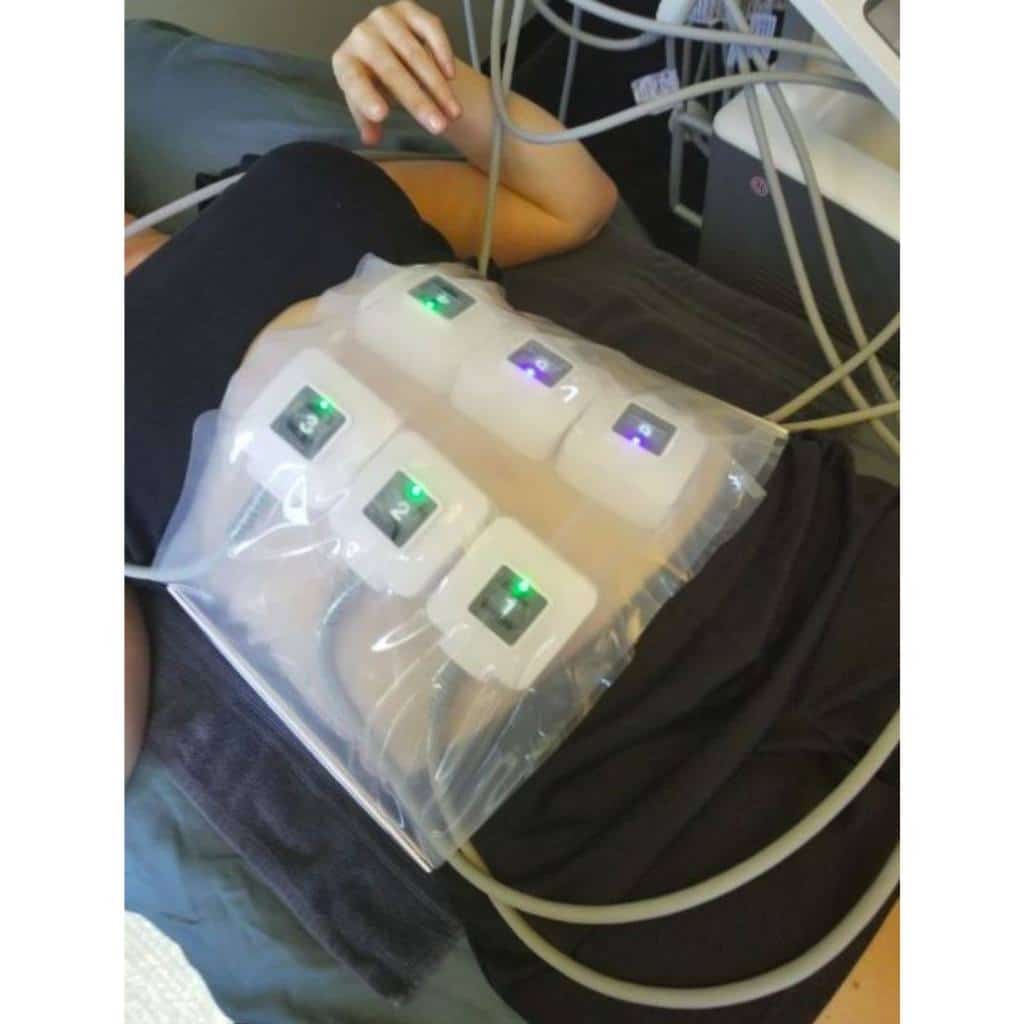 What results can you expect from a TruSculpt iD procedure?
Results from any fat reduction procedure will vary depending on the individual. The thickness of the fat layer determines how much a non-invasive procedure can reduce in a single treatment. On average, during clinical studies people within 10-15 lbs of the ideal body weight with a fat layer in the treatment area less than 2" thick saw a 24% reduction in the thickness of the fat layer with just one treatment. It takes a full 3 months to see those final results, but additional treatments can be performed in as little as 2 months to get even more reduction. It is common for many people to require more than one treatment to achieve their desired results.
The fat reduction from TruSculpt iD is considered permanent as long as you maintain a healthy lifestyle and do not gain weight. Not all fat cells are eliminated (only about 24% on average) so those fat cells left behind will get bigger with weight gain. With enough weight gain the results you get from your procedure could be completely eliminated. Like all fat reduction procedures, it's important to maintain your own diet and exercise routine to not gain weight after the procedure.
How does TruSculpt iD compare to other non-invasive fat reduction procedures like CoolSculpting?
TruSculpt iD and CoolSculpting are both non-invasive procedures that reduce unwanted pockets of fat on the body. Both procedures are options instead of a liposuction surgical procedure.
TruSculpt iD uses radiofrequency energy to heat the fat cells and cause them to die. CoolSculpting uses controlled cooling to freeze the fat cells and cause them to die. The end result is the same, dead fat cells that are then naturally eliminated from your body over the next 3 months after your treatment.
Both procedures eliminate on average around 20-2% of of the fat layer thickness in the treatment area in a single procedure. Both procedures can be performed multiple times to get the final desired results if more fat reduction is wanted.
With the smaller size of the single handpieces, TruSculpt iD can sometimes treat smaller areas than CoolSculpting can. TruSculpt iD also has only flat handpieces vs. the curved suction cup applicators used by CoolSculpting. This allows us to treat more flat areas on the body than CoolSculpting can as it's designed to treat more bumps and bulges only. An example of this is the front of the thighs. This is an area that CoolSculpting cannot be used to treat.
TruSculpt iD also promotes collagen formation in the skin layers that CoolSculpting does not. This can results in tighter skin after the procedure so it's a preferred and useful procedure when someone has both fat and loose skin in the areas they want to treat.
TruSculpt Id vs. CoolSculpting IN ALPHARETTA, GA
Sculpted Contours Luxury Medical Aesthetics offers both TruSculpt iD and CoolSculpting. Not everyone or every body part is a good candidate for every procedure so this allows us more flexibility to not have to turn someone away. We provide a comprehensive and complete treatment plan with advanced level protocols no matter which procedure is chosen. This gives you the very best results. Sometimes a person is a great candidate for both procedures and gets to choose whether they would prefer a hot procedure or a freezing procedure. Hint, both are comfortable. Either way, you'll get the best results by choosing an expert provider with years of expertise performing both procedures.
We also offer a Fire & Ice Treatment that uses BOTH technologies to treat the same area. This results in FAST fat reduction with even greater reduction than a single procedure. This isn't right for everyone, but can be done safely and effectively in many people.
If you are interested in non-invasive fat reduction with TruSculpt iD, schedule your personal consultation appointment with our expert team by calling 404-872-8578 or completing the consultation request form on our website.
TRUST YOUR RESULTS TO THE EXPERTS!

CALL TO SCHEDULE YOUR CONSULTATION TODAY 404.872.8578