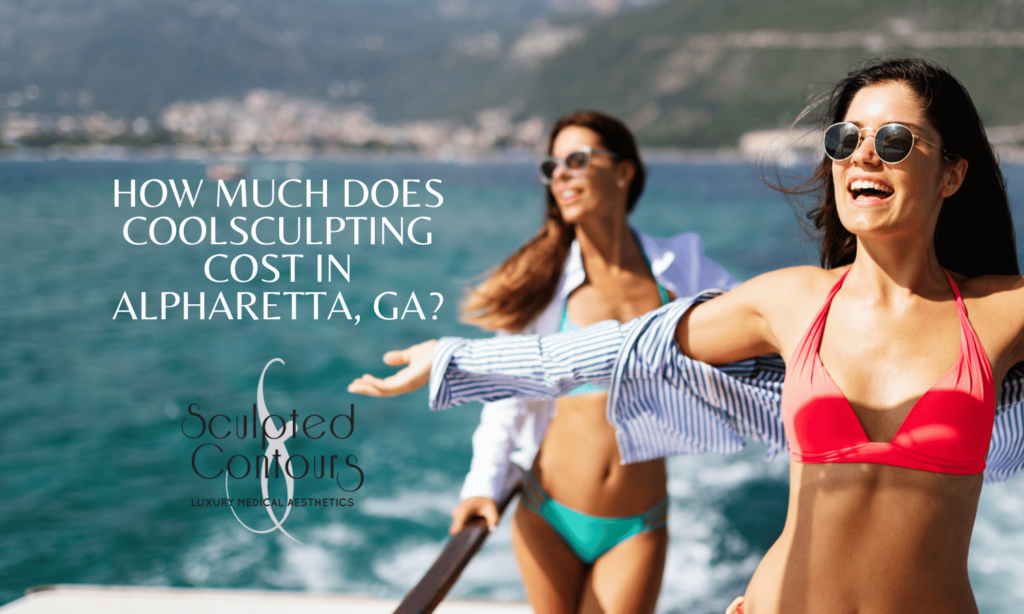 CoolSculpting is a fantastic way to reduce those stubborn pockets of fat without a surgical liposuction procedure or diets that just don't seem to work quickly (or at all). CoolSculpting permanently eliminates fat cells in the treated areas and those cells do not EVER return! You'll have a thinner layer of fat with less fat cells to store fat in just a few months after your procedure.
If you need more information about how CoolSculpting works, then click over to our main CoolSculpting page to learn more about this procedure and what makes Sculpted Contours Luxury Medical Aesthetics THE place to choose for your CoolSculpting procedure!
How much Does CoolSculpting Cost?
If you know enough about CoolSculpting and are ready for the next step, then the cost of CoolSculpting might be what you need to know to make that final decision.
CoolSculpting price is determined by a few things which are all addressed during your consultation appointment.
At Sculpted Contours, our consultations are complimentary. We want you to see for yourself how this works, see our fantastic luxury office where you'll have your procedure, and allow us to fully assess your body to determine if CoolSculpting is the right procedure for you and how we would treat you to get the very best CoolSculpting results.
Not every body is the same. Actually, almost no one is exactly the same.
CoolSculpting treatments are customized to your body and the areas you want to slim down with fat reduction.
There are several sizes of applicators and even different shapes and configurations that can be used. During your consultation, our CoolSculpting expert clinical team will assess the areas you want to treat and measure each one with the applicator templates to determine the best fit and the best way to place the applicators on you to get those smooth, contoured best CoolSculpting results you want to see
What is a CoolSculpting Treatment Plan?
A CoolSculpting treatment plan is based on the individual and is the plan that includes which size and shape of applicator will be used on which part your body you want treated. 
At Sculpted Contours, each treatment plan we develop uses the most advanced protocols for CoolSculpting, many of which we developed over the 9 years we've performed over 11,000 CoolSculpting treatments.
Our experience and EXPERTISE is what gives you the best CoolSculpting results. Our famous saying is "we do CoolSculpting ALL DAY, EVERY DAY!"
We have two dedicated rooms just for CoolSculpting treatments. We have two CoolSculpting ELITE machines that can treat 2 areas of your body at the same time. This allows us to get more people treated and ready for summer swimsuit and shorts season than other medspas that only have 1 machine or 1 of the old CoolSculpting systems that can only treat one area at a time.
That DOUBLES your treatment time and who has time for that? We've even used both machines on a person to treat 4 areas at the same time.
But speed of treatment isn't the only good thing about choosing Sculpted Contours for your CoolSculpting procedure.
We ALWAYS have the latest CoolSculpting technology to perform your procedure. Our dedication to providing the world's #1 non-invasive fat reduction procedure makes sure you get only the best.
Our team is CoolSculpting University and CoolSculpting MASTER trained in all the latest and most advanced protocols. Our team is led by a former CoolSculpting trainer, Kathy, that runs the medspa, performs your assessment and treatment plan development, and does CoolSculpting procedures along with our team too. Yes, she's busy, but that gets you the best results and that's what we care about.
Once you have a customized treatment plan, that's when the price of your CoolSculpting treatment can be determined. It's all based on which applicator sizes are used and how many of them you need.
At Sculpted Contours, we offer discount package pricing even with just ONE applicator! We can do that because of the volume of procedures we perform.
Our CoolSculpting package discounts start at 25% off and go up to 40% off based on the total number of treatment areas you are purchasing.
Here is another BIG difference in our pricing plans. We do not charge you up front for a 2nd round of CoolSculpting, even though most people need 2 rounds of treatment on the same area to get those WOW! results. Instead, we discount your 2nd round EVEN MORE! 2nd round discounts ADD TO the package discount you get and start at an additional 30% off when you treat the same area again within 2 months.
We even have an ADDITIONAL FOR LIFE CoolSculpting discount of 15% off in addition to the package discounts you get.
Want to learn more about Treatment Plans and see some examples of CoolSculpting Cost in Alpharetta, GA?
Sign Up For Allē Loyalty Program for Even More Savings on CoolSculpting!
One more thing, to reduce the price of CoolSculpting EVEN MORE, you can sign up for  Allē rewards and promotions. Allē is the rewards program from the CoolSculpting company (Allergan). They give you a gift card for each CoolSculpting area you treat $20 to $25 depending on which applicator you have used. This extra gift card reward can be used as a partial payment for your 2nd treatment. We get shocked sometimes when all the discounts and rewards add up to BIG SAVINGS off CoolSculpting!
So, that explains a lot about how CoolSculpting costs are determined but what is the actual price of CoolSculpting? That varies…but our discounted prices on the first treatment you ever have with us start at $600 per area for the standard-size applicators that are used most often.
Of course, you have a left and right side of your body for most treatments, so you'll need 2 of those at $1200. The more areas you treat, the less the price per area with the package discounts.
The CoolSculpting company also runs promotions sometimes and since we are a CoolSculpting ELITE provider, we ALWAYS pass those along to you. Our Specials and Promotions page will let you know if there are any extra promotions, but you can also call the office to see if there are others that aren't advertised we can tell you about. But even without a special promotion, our CoolSculpting prices can't be beat!
You'll get a LUXURY CoolSculpting treatment suite with all the extras to make your time with us comfortable and amazing.
You'll get our EXPERIENCE of 9 years and over 11,000 CoolSculpting procedures performed You'll get the best RESULTS because of our EXPERTISE with CoolSculpting.
Your next step is to schedule your personal consultation appointment to come into our luxury medspa in Alpharetta, GA, and see for yourself how CoolSculpting and the expert team at Sculpted Contours can help you get summer ready in time for summer!
Call our office at 404-872-8578 or complete the consultation request form below and our team of specialists will call you to get your appointment scheduled.
TRUST YOUR RESULTS TO THE EXPERTS!

CALL TO SCHEDULE YOUR CONSULTATION TODAY 404.872.8578