We all want them or want them back again. Slender upper arms are sexy, sophisticated, and just beautiful, no matter what you wear.
Sometimes it's upper arm fat reduction that's needed to get those shapely, defined arms that look great in sleeveless, short sleeve, or even a long-sleeve-fitted shirt. Sometimes upper arm skin tightening for the crepey, loose skin that causes sagging arms is needed. Sometimes it's more muscle to get definition and shape. Sometimes it's all three and that's called ADVANCED BODY CONTOURING FOR ARMS!
Whatever you need, whether it's one issue or all three that will get you the shapely, slender, tight upper arms you want, we've got you covered.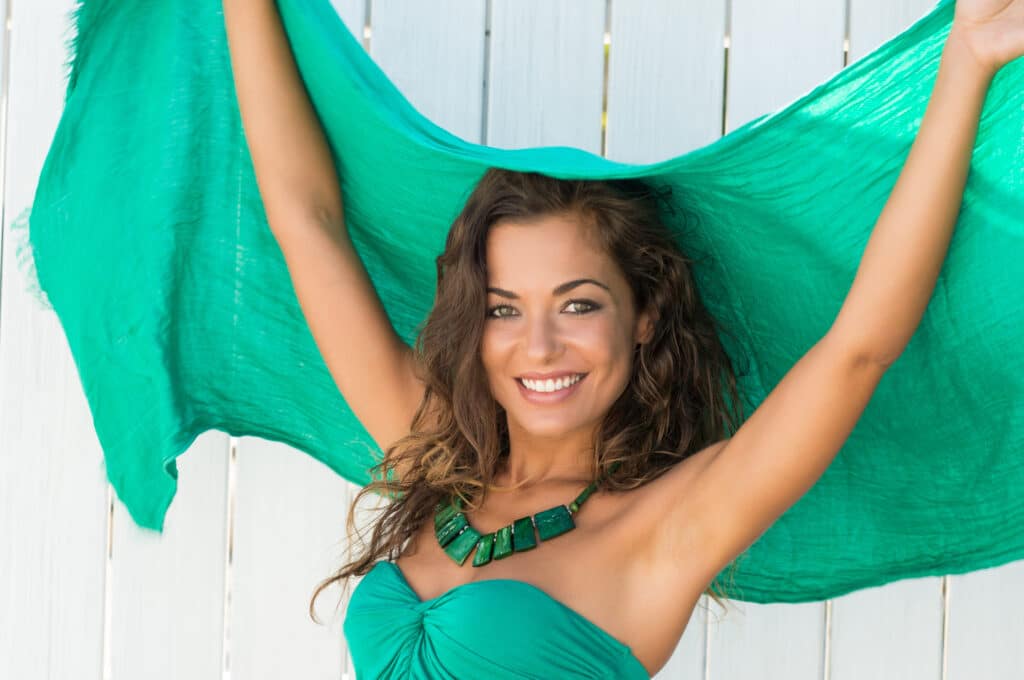 Upper arms are a challenging place to reduce fat. Genetics sometimes plays a role in depositing too much of our body fat in the upper arms. Stop trying to fight your family tree and realize you need to kill off some of those extra fat cells to ever have slender upper arms. Sometimes it's age…the dreaded fat spread that can make our upper arms sag and just look and feel bigger. Either way, there is a non-surgical solution that REALLY works!
CoolSculpting is a fat freezing procedure that permanently eliminates fat cells with a single procedure reducing approximately 25% of the fat layer thickness. CoolSculpting Arms is a 35-minute treatment and at Sculpted Contours with CoolSculpting ELITE we treat both arms at the same time. So, in less than an hour, you can be in and out of our office with arm fat reduction on its way! Sometimes we need to treat not only the very upper part of the arm near the armpit, but all the way down to the elbow to reduce the fat pocket fully and leave you with perfectly sculpted and contoured arms. If that is needed, we just do 2 rounds of back-to-back treatments and still get you in and out of the office in less than 2 hours total. It's an afternoon at the spa but with dramatic results appearing within just a few months after your treatment day.
Going along with upper arm fat some women also have loose sagging upper arm skin creating that droop and crepiness appearance that keeps you wearing longer sleeves even in the hot summer months to cover it up. Whether you need arm fat reduction with CoolSculpting or just skin tightening is determined during your consultation appointment. You don't want to try and tighten skin that is being pulled downward with gravity due to a thicker layer of fat. So fat reduction if needed always comes first. Skin tightening on the arms is best managed by Morpheus8 Body Skin Tightening. This series of 4 treatments performed once every 6 weeks can dramatically reduce crepiness from the armpit to the elbow, tighten the skin and lift that sagging upper arm. Morpheus 8 is RF microneedling, where tiny microneedles are used to deliver collagen boosting, skin reducing RF energy deep within the layers of the skin and into the fat layer of the arm to tighten and lift. With minimal "downtime" where you would just need to wear loose clothing that covers the treatment area and stay out of the direct sun and water for a few weeks, this is an easy year round procedure for many people. The series of 4 treatments is completed in 6 months with an additional 6 months of continued improvement as the collagen remodels and builds in the skin.
Muscular, shapely arms with definition lines are sexy! Whether you want to see biceps and triceps and flex your muscles or just have definition Trusculpt FLEX can help you get there. Workouts are hard and produce muscle over time when you get in a regular workout frequently. If you need a boost, a quick start to seeing muscle and definition in your arms, that's where TruSculpt FLEX for arms can help.
TruSculpt FLEX is a procedure developed for physical therapy to work out muscles without you "working out". The procedure uses deep electrical stimulation to cause strong muscle contractions that strengthen and develop muscle mass. Each 45-minute procedure is equal to 54,000 repetitions; try that in a gym. Each procedure works both biceps and triceps at the same time so arm definition is from both sides. Even those hard to work, hard to develop triceps are no match for 54,000 reps in a single procedure. To build muscle, you'll have 4 to 6 treatments over 2 to 3 weeks depending on your current fitness level and goals. Results begin to appear after 2 to 3 treatments and continue to improve as muscle fibers build over the next 2 months.
Advanced Body Contouring for Arms
We call it our ABC Protocol where we use more than one modality to redefine your body. With arms, it could be fat reduction and muscle definition or fat reduction and skin tightening, or skin tightening and muscle definition. It could be all three are needed or wanted. Every person is different, and your personal consultation will determine what will best suit what you need to get the shapely, defined, sculpted and contoured arms you want. We work with you and your goals along with what we see on the initial assessment to determine the best protocol to get you sculpted!
Advanced Body Contouring is our specialty. We have selectively chosen the best aesthetic devices to provide the results our clients want to see. CoolSculpting, Morpheus8 and TruSculpt FLEX are the BEST OF THE BEST when it comes to results. With our advanced treatment protocols and expert trained staff, you are in great hands.
Whether summer is just around the corner or not, now is the time to get started on your Sculpted Arms. Depending on your needs, results can begin to appear in as little as a few weeks or it could be up to 6 months or more before you see those final results with a more comprehensive treatment plan. Either way, once you get started you are on your way to SLENDER, TIGHT, SCULPTED & CONTOURED ARMS!
Call to schedule your complimentary consultation appointment at 404-872-8578 or complete the form below to request an appointment and one of our team will contact you.
TRUST YOUR RESULTS TO THE EXPERTS!

CALL TO SCHEDULE YOUR CONSULTATION TODAY 404.872.8578