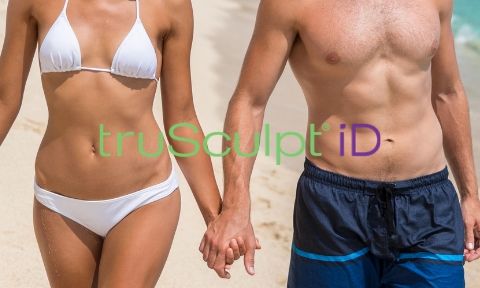 TruSculpt iD Fat Loss – Don't Freeze it, Melt It!
You've probably heard about achieving amazing fat loss results with fat freezing. Well, Sculpted Contours in the Atlanta, GA area now also offers TruSculpt iD – a revolutionary procedure that permanently eliminates fat cells, tightens the skin, and gets rid of cellulite with fat melting.
The TruSculpt iD all-in-one fat loss procedure utilizes state-of-the-art radiofrequency energy to permanently melt away fat cells, tighten skin and reduce cellulite – all in a single, quick and comfortable 15 minutes procedure.
How TruSculpt iD Fat Loss Works
During the TruSculpt iD fat loss procedure, radiofrequency (RF) heat deeply penetrates the entire layer of fat from skin to muscle. While the fat is heated to a temperature of 113 degrees, a comfortable temperature is still maintained for the skin.  Through this heating process, the fat cells are literally melted and killed, and then naturally removed from the body over the course of the next 12 weeks.
On average, our Atlanta, GA area TruSculpt iD patients enjoy an incredible 24% fat loss! And, unlike other fat loss treatments, TruSculpt iD not only removes fat, but has also been proven to leave patients with tighter skin.
Number of TruSculpt iD Fat Loss Treatments
The optimal number of TruSculpt iD fat loss treatments for each patient will depend upon the number of areas to be treated, and the amount of fat to be removed. Results will be seen with just one treatment, but multiple TruSculpt iD sessions may be necessary to achieve the patient's complete desired fat loss.
However, of all the aesthetic procedures performed with radiofrequency, the RF energy emitted during the TruSculpt iD fat loss procedure is the strongest. This means shorter treatment time, fewer treatments required per area, and a greater overall loss of fat than other RF fat loss treatments.
Fat Loss Advantages of  Melting vs. Freezing
At Sculpted Contours we have provided more CoolSculpting fat loss procedures than any other provider in the Atlanta area, with results consistently proving its effectiveness. But while CoolSculpting fat freezing is an amazingly effect fat loss treatment, no single procedure is right for every single person!
While CoolSculpting fat freezing is great for patients with elastic skin, fat freezing removes fat but does nothing to treat skin laxity and has not been proven to reduce cellulite. However, TruSculpt iD uses radiofrequency thermal energy which melts away fat, tightens skin and reduces cellulite, all in a single procedure.
TruSculpt iD is also an ideal option for patients for whom other fat loss procedures may not be appropriate. Whether due to the location and size of the desired treatment area, or the prospective patient's skin type, CoolSculpting may not be an option. But for such individuals still wishing to undergo medical fat loss, TruSculpt iD is often the perfect fat loss alternative.
Through the various applicator types, including a "mini" applicator used to treat smaller pockets of fat, TruSculpt iD can provide fat loss to almost any treatment area. The expert staff at Sculpted Contour can offer precise, effective treatment to just about any deposit of unwanted fat.
TruSculpt iD is a Comfortable Fat Loss Option
Compared to other fat loss procedures, TruSculpt iD involves very little discomfort. Many of our Atlanta, GA area patients compare the experience to a hot stone massage – far and away more comfortable than the cold sensation of fat freezing.
TruSculpt iD Fat Loss Has No Downtime
Since TruSculpt iD is a non-invasive fat loss method, there is no downtime involved. TruSculpt iD fat loss patients are able to return to their normal daily routine immediately following the procedure.
For about an hour after the TruSculpt fat loss procedure, the treatment area will have some slight pinkness or redness. Occasionally, patients will experience some minimal swelling or tenderness after their TruSculpt fat loss treatment, but this subsides quickly as the fat cells are eliminated from the body. And as the body naturally eliminates the melted fat cells, your toned, trim, tight new body will appear!
TruSculpt iD RF Fat Loss Treatments – Atlanta, Ga
70% of all Americans report dissatisfaction with their physical appearance. At Sculpted Contours in the Atlanta, GA area, we are changing that.
If you're in the Atlanta, GA area and are curious about medical fat loss, contact Sculpted Contours to see if TruSculpt iD fat loss is right for you.
Atlanta, GA area Fat Loss Consultation: 404.872.8578
.
CLICK HERE for Atlanta, GA TruSculpt iD Fat Loss Financing