COOLSCULPTING ELITE VS. COOLSCULPTING IS THERE A DIFFERENCE?
CoolSculpting Fat Reduction was first introduced in early 2010 after FDA clearance of the device to treat fat cells with a non-invasive procedure that freezes and eliminates them without damage to surrounding tissue. This revolutionary procedure changed the way small pockets of subcutaneous fat could be treated without liposuction surgery. It allowed men and women to take a few hours out of their day for a virtually painless procedure without surgery or any restrictions afterwards.
Within 3 months see an average of a 20% reduction of the fat layer thickness in the treated areas.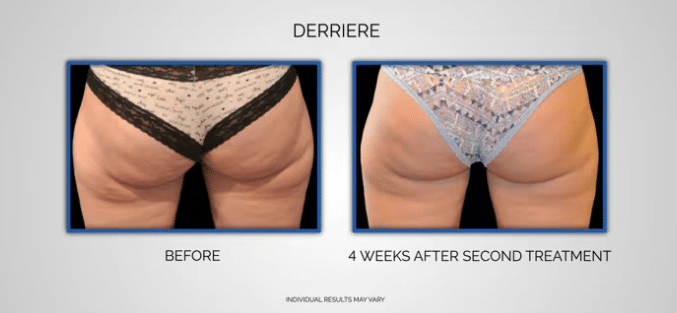 Since that time, the applicators used to treat the subcutaneous pockets of fat have evolved into different sizes and shapes to treat more parts of the body than the original applicators which were designed to fit only on the abdomen and love handles.  New sizes and shapes allowed more people that wanted CoolSculpting to be able to get treated.
CoolAdvantage Release in 2016
In 2016, the newest CoolAdvantage applicators were released and FDA cleared to treat fat. These new applicators changed the treatment time from 60 minutes to 35 minutes by decreasing the temperature by 2 degrees C. Another change from the original applicators to CoolAdvantage was an increase in the size of the treatment area by going from two parallel plate cooling panels within a tight rectangular shaped applicator to a dome shaped cup that is a cooling panel surrounding the fat pocket on all sides. At the time, this was a game changing CoolSculpting technology that produced better results with smoother contours and less irregularities of the area after treatment than the first generation of applicators.
In late 2020, CoolSculpting ELITE was released which updated every part of the CoolSculpting system including the applicators. The same dome shaped cup design from CoolAdvantage applicators is used with CoolSculpting ELITE.  The same shorter 35 minute treatment time is used. Those were the perfect parts of CoolSculpting that didn't need to be changed. So, what changed to make CoolSculpting ELITE better than the original CoolSculpting and CoolAdvantage? The applicator cups are wider and less constricting on the tissue being treated. This results in more tissue being treated, up to 18% MORE with every applicator placement.  That's more tissue treated and more results!! Another big reason for the change is the wider cup is safer than the prior applicator designs. The applicators have a C-shaped design vs. the U-shaped design of the CoolAdvantage applicators. By creating more room and less constriction with the wider cup design the tissue oxygen and blood supply is not reduced during the freezing process. This change has reduced the incidence of a rare side effect called paradoxical adipose hyperplasia or PAH.
The system is also redesigned to have 2 applicators on one platform vs. the single applicator per platform in the previous CoolSculpting systems. For some CoolSculpting ELITE providers this doubled the treatment areas they could provide. At Sculpted Contours Luxury Medical Aesthetics we've provided 2 treatments at the same time for each person since we opened our doors in 2014. We value your time and invested into 4 CoolSculpting systems and 2 dedicated CoolSculpting suites in our office. Now that we've upgraded, each of our 2 rooms has a dual CoolSculpting Elite system.
CoolSculpting ELITE produces better results with up to 25% reduction in the fat layer thickness with a single treatment.
And CoolSculpting ELITE has a better safety profile than the original and CoolAdvantage applicator design. Better CoolSculpting is Better with CoolSculpting ELITE! Here at Sculpted Contours, we've performed over 11,000 CoolSculpting procedures as of November 2022 since we opened our doors 8 years ago in October 2014. Our expertise in CoolSculpting and commitment to always have the most advanced technology will never change. We do this so YOU can have the BEST CoolSculpting ELITE results and the safest procedure. If you are considering CoolSculpting, make sure you choose the provider with the MOST experience and most advanced CoolSculpting ELITE technology. In Atlanta and Alpharetta, GA, that place is only Sculpted Contours Luxury Medical Aesthetics. To Learn More about CoolSculpting ELITE and see if you are a candidate schedule a complimentary consultation with us.
Schedule your Consultation appointment by calling our Alpharetta, GA CoolSculpting ELITE center at 404-872-8578 or complete our consultation request form and someone from our office will call you. You are just one step away from a Slimmer You!