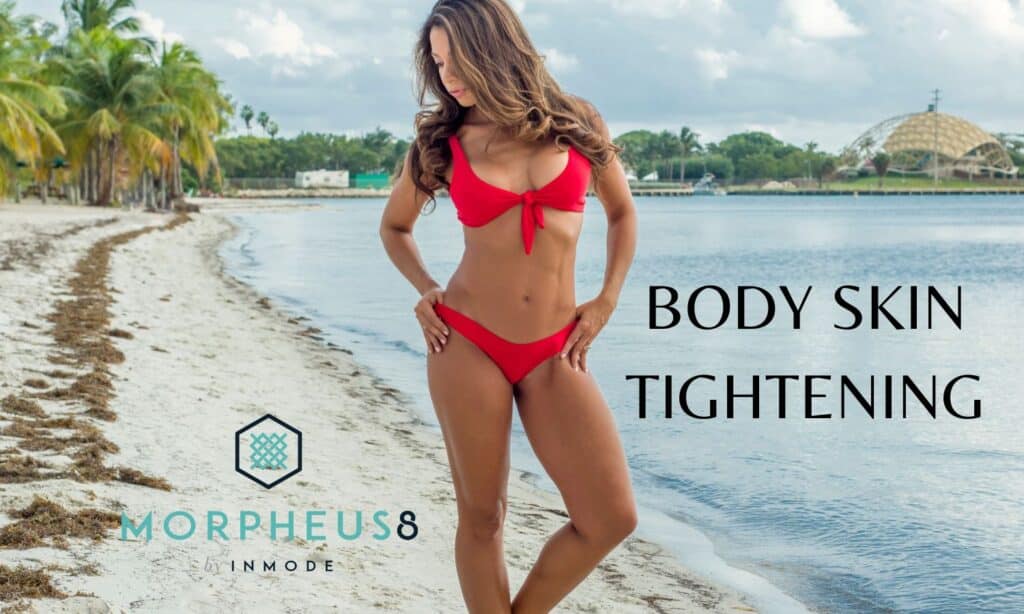 Summer is coming soon and many women and some men have areas of their body that the skin is loose or crepey and we just want to tighten that skin up like saran wrap! What can you do?
What Procedures work to tighten skin on the stomach, arms, and knees (and other places too)?
At Sculpted Contours Luxury Medical Aesthetics we offer the revolutionary Morpheus 8 RF Microneedling procedure to tighten skin. This powerhouse procedure delivers radiofrequency energy through microneedling channels to create deep injuries within the skin and sometimes when needed down into small fat pockets. The healing from these injuries results in less
volume of tissue and deep collagen tightening as well as new collagen formation.
This FULL BODY treatment allows our clinical team to tighten skin almost anywhere on the body as well as the face and neck all without surgery, scars or any compression garments to wear. A series of 4 treatments is usually recommended to tighten skin on the body. Additional treatments may be needed for more extreme laxity, stretch marks or pockets of fat in the areas you are interested in treating. One treatment is performed every 6 to 8 weeks with final results happening 6 months after your last treatment.
What areas can you treat with Morpheus8 Body?
Whether it's post pregnancy that left your stomach with loose skin or even weight loss there is hope. Even those flappy, bat wings on the arms can be tightened.  Arm skin tightening is the best! How about just above your knees? Seeing loose crepey skin there keeps you from wearing shorts and skirts trying to cover it up. Morpheus 8 even smooths out body areas after liposuction that has left crepey skin and a lumpy or non-smooth contour. You can see visible improvement in the rippled appearance on the abdomen and legs after Morpheus 8 treatment for the body.
How does Morpheus 8 Body Skin Tightening Work?
Prior to the procedure, the skin is numbed with a strong topical numbing cream for a full hour. Then, the Morpheus handpiece delivers the tiny microneedles into the skin being treated and delivers the RF energy through the tips of the microneedles. Placing the needle handpiece across the entire treatment area with multiple passes set at multiple depths to get the very best results. Depending on the area being treated, expect each procedure to take 30 min to 1 ½ hours after the numbing is completed.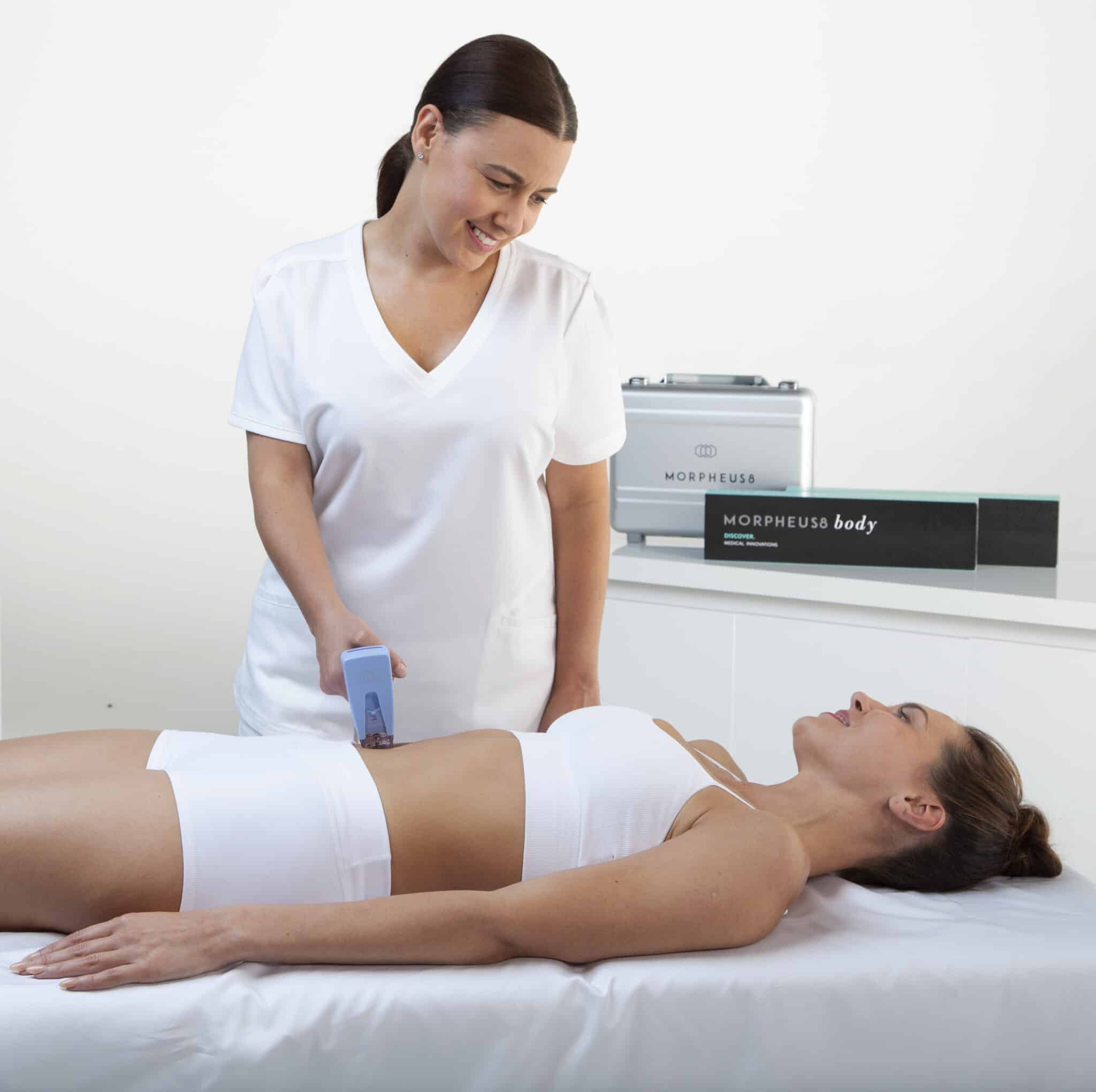 Can Morpheus8 Body treat fat?
The Morpheus8 Body handpiece contains 40 tiny microneedles that deliver the energy at to depths of up to  7 mm + 1 mm deeper for the energy burst. This allows the clinical team to adjust depths to treat even down into the fat layer to remodel and reduce along with tightening the skin above.  All treatments are customized to your body with every layer of fat and skin that need to be treated from 7 mm to 1 mm in depth covered with each procedure.  
Who can be treated with Morpheus 8 Body Skin Tightening?
All ethnicities, all skin types, all skin colors! The beauty behind RF energy is it can be used safely on anyone. The ideal candidate for this procedure has crepey loose skin caused by pregnancy, weight gain and loss, or just aging. It is not for large amounts of loose skin from extreme weight gain and loss, only surgery can manage that. But for most people, this will be enough to tighten and rejuvenate the skin.
This is the Kim Kardashian stomach tightening treatment that everyone has been talking about. Whether you like her or follow her or not, she's got the right idea in mind after pregnancy, we all could use tighter skin on the abdomen and Morpheus 8 Body gets you just that.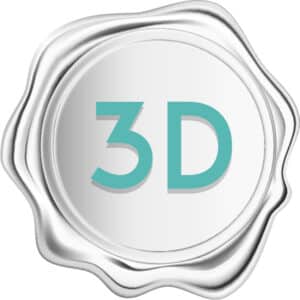 The latest release of new body treatment handpieces has arrived at Sculpted Contours Luxury Medical Aesthetics. Morpheus8 Body has gone 3D!
What is this? It's a new pattern of delivering the energy that maximizes the results. Delivering energy in a sequential 3D pattern with each pulse and at each depth gives maximum benefits in tissue remodeling and skin tightening.
Ready to see tighter skin on your abdomen, arms, braline, love handles, knees, thighs or other areas? Schedule your consultation appointment with one of our expert clinical team to see if Morpheus 8 BODY 3D is right for you.
Complete the form below and one of our team members will contact you to schedule your personal consultation appointment or call the office at 404-872-8578 and we can get you scheduled right away.
TRUST YOUR RESULTS TO THE EXPERTS!

CALL TO SCHEDULE YOUR CONSULTATION TODAY 404.872.8578