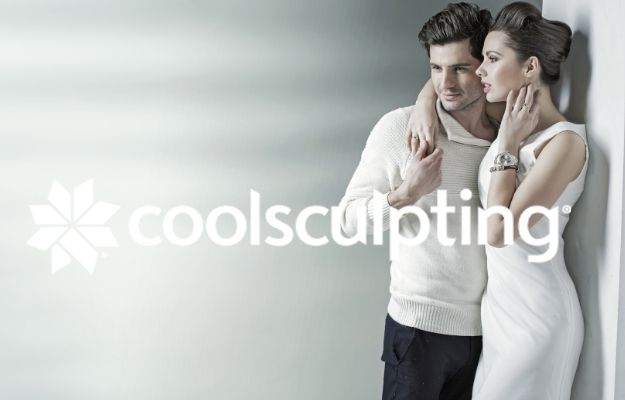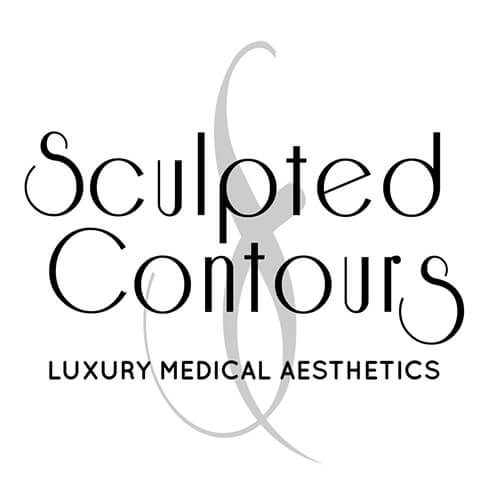 #1 Volume CoolSculpting Georgia Practice 2014-2019
Highest Level Diamond Practice Designation Multiple Quarters
Over 8900 CoolSculpting Procedures Performed
Former CoolSculpting Trainer Leading Our Team
CoolSculpting Certified Practice
CoolSculpting University Training
CoolSculpting MASTER'S Level Training
4 CoolSculpting Machines | Faster CoolSculpting
Luxury Private Suites | HDTV | Lunch or Snacks
Best of City Awards 2015, 2016, 2017, 2018, 2019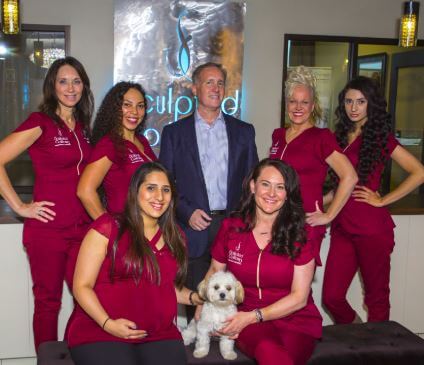 BEST CoolSculpting Center Alpharetta & Johns Creek GA
When you are looking for the best CoolSculpting Center and you live in Alpharetta or Johns Creek are you willing to sacrifice your CoolSculpting Results to save a few minutes of drive time?  No matter where you live in metro Atlanta, Sculpted Contours Luxury Medical Aesthetics is convenient and close with a short drive from where you are now.  Our clients choose us for our expertise and the luxury center and experience we provide during your CoolSculpting procedure.
Experience is what matters most when it comes to getting the best CooSculpting Results.  There is no other CoolSculpting Center in Atlanta, GA with as much experience as Sculpted Contours Luxury Medical Aesthetics.  We've performed over 9000 procedures in just the last 5 years.  All those procedures were performed in one location and with our SAME primary team of CoolSculpting Experts.
Our Director, Kathy King is a former CoolSculpting trainer, trained at CoolSculpting University in 2014, CoolSculpting Master's University in 2018 and CoolSculpting Master's MBA in 2018.  Kathy provides oversight and clinical training for all our CoolSculpting expert team every day.
That's experience you can trust. 
Why go anywhere else?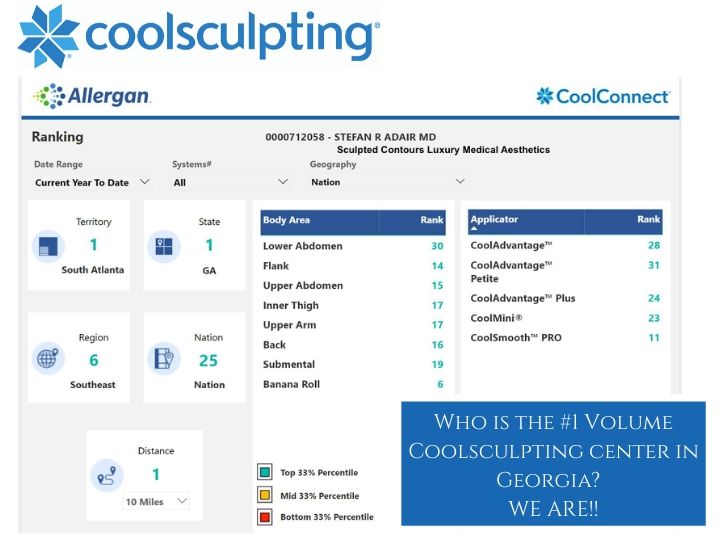 BEST COOLSCULPTING IN ATLANTA
This report is provided to all CoolSculpting providers by Allergan, the company that owns CoolSculpting.  Sculpted Contours Luxury Medical Aesthetics consistently ranks as the #1 Volume Provider in Atlanta and in Georgia and as one of the top in the US.  We are currently ranked #25 in the United States out of over 3000 CoolSculpting providers.  That is experience YOU CAN TRUST!
READY TO REDUCE BODY FAT?
FREEZE IT AWAY!  
CoolSculpting is a FDA cleared medical procedure proven to reduce body fat by a revolutionary process to freeze the fat.  This procedure safely eliminates subcutaneous pockets of fat almost anywhere on the body.  With visible results appearing in just a few weeks, CoolSculpting is the procedure most Atlantan's choose when considering non-invasive fat reduction. There is a reason CoolSculpting is the #1 Non-Invasive Fat Reduction Procedure in the WORLD!!
Learn More About CoolSculpting At Sculpted Contours Luxury Medical Aesthetics
AREAS WE TREAT WITH COOLSCULPTING
ABDOMEN
FLANKS
ARMS
INNER THIGHS
OUTER THIGHS
BRA LINE
BACK
KNEES
DOUBLE CHIN
TEA CUPS
How Is CoolSculpting Part Of An Advanced Body Contouring Protocol?
Your body isn't like anyone else's and your CoolSculpting procedure treatment plan shouldn't be either.  Only EXPERT CoolSculpting providers understand the way to implement CoolSculpting fat reduction as part of an Advanced Body Contouring Protocol.
Whether you need just non-invasive fat reduction with CoolSculpting or a more advanced level treatment plan, we've got you covered.  Our expert team of medical professionals are all CoolSculpting certified and work directly under CoolSculpting Master, Kathy King.  We utilize more than one fat reduction procedure to get you the results you want to achieve AND provide long lasting results by ensuring you are treated right the first time.
Learn More About Our Advanced Body Contouring Protocol
Cool Sculpting Before & After Results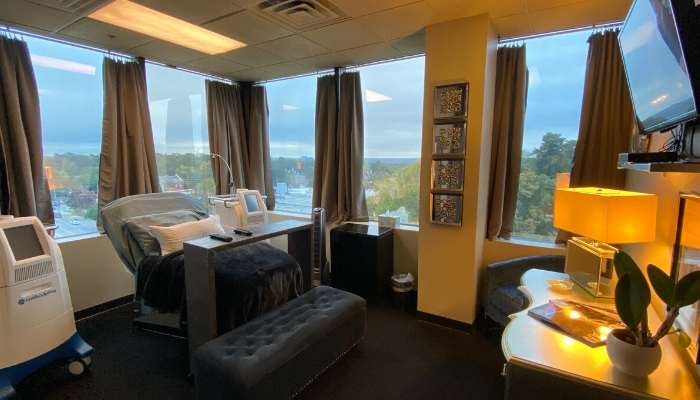 There is NO other CoolSculpting Center in the metro Atlanta Area including Alpharetta, Ga and Johns Creek that has the LUXURY procedure rooms Sculpted Contours Luxury Medical Aesthetics has.  When you expect luxury and all the details of a first class medspa, you've found the right place!
This is one of our two dedicated CoolSculpting procedure suites.  A full wall of windows is in each room along with luxury appointed furnishings and a 42″ flat screen TV.  You'll be pampered all day!
Want To See More Photos Of Our Luxury Center?  Click Here>>>>
Sculpted Contours is a Multi-Time Awarded DIAMOND Crystal Level CoolSculpting Practice. Ranked in the top 40 by CoolSculpting procedure volume in the United States. Experience Matters When It Comes To Your Results!   Learn More>>>