Best Coolsculpting with New CoolAdvantage Applicators!
The newest innovation in CoolSculpting is CoolAdvantage and its a GAME CHANGER in non-invasive fat reduction treatment. The #1 non-invasive fat reduction procedure in the world, just got even better!!
Sculpted Contours Luxury Medical Aesthetics was selected by Zeltiq Aesthetics, the manufacturer of CoolSculpting to be the first CoolSculpting center in Atlanta to get the CoolAdvantage applicator. As Atlanta's Premier CoolSculpting Provider, Sculpted Contours Luxury Medical Aesthetics provides the BEST CoolSculpting treatments!
COOLADVANTAGE technology is a GAME CHANGER in non-invasive fat reduction
Older temperature decreases treatment time to 35 minutes
Applicator cup shape reduces suction pressure for a more comfortable treatment without skin "hickey" marks
Cup applicator completely surrounds the fat treating uniformly from the top and all sides resulting in more fat treated with each procedure
BOTTOM LINE: Better Results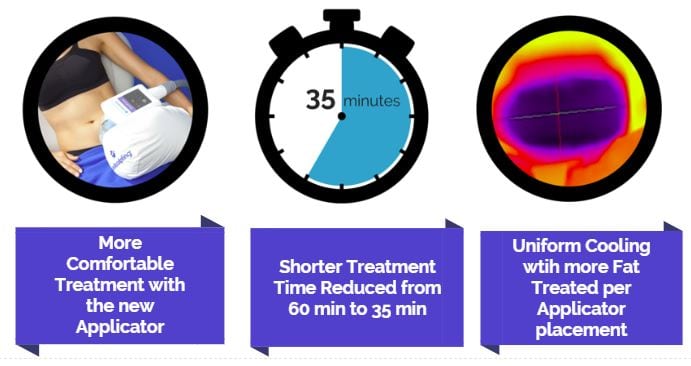 CoolAdvantage truly changes everything and makes CoolSculpting better! Shorter treatments times are better for you to get back to your busy life even faster. The more comfortable treatment produces NO discomfort from the applicator and no "hickey" marks on your skin from the suction after the treatment.
The very best part is the expanded treatment area and uniform cooling across the entire area for more uniform results and greater fat reduction! This is the part of CoolAdvantage that makes us so excited. We know how great CoolSculpting has always been, but now it's going to give even better results, in a shorter treatment time and more comfortable procedure.
We are very proud to be selected as one of the first 100 practices in the entire United States to get the new CoolAdvantage applicator first.
We were the FIRST in Atlanta and the SECOND in the entire Southeast, only behind the practice in Miami where the inventors wife of CoolSculpting works as the lead Dermatologist. In the first week, we performed 40 treatments with the new applicator!
We do so many CoolSculpting procedures that Zeltiq made sure we had all the applicators we need to continue to deliver the BEST CoolSculpting results to Atlanta! Now you can treat two areas in 35 minutes! CoolSculpting can easily be a lunch time procedure for anyone!
Ready to see the BEST CoolSculpting results?
Trust only Sculpted Contours Luxury Medical Aesthetics
Sculpted Contours is committed to helping you achieve the results you want to see. While not all desired results are attainable, once we discuss your desired outcome in your consultation and agree upon the expected outcome, we deliver. Our expert staff are constantly trained to provide the most advanced, comprehensive treatment protocols.