CoolSculpting Abs
Everyone wants that sculpted waist.  For women its the flat stomach and hourglass figure you had in college or before kids.  For men, its that 6 pack abs or even a 4 pack with a deep v-shaped back!  Problem is how do you get it, or get it back again?
Time is NOT on your side.  Age in women produces hormonal changes that make us hold weight around the mid-section.  Add to that pregnancy body changes and you have a mountain not  a mole hill to overcome.  In men, the same changes take place in the same places, the mid-section.
Those love handles that you really don't love, that spare tire or beer belly.  Whatever you call it, you just want to make it go AWAY!
Then there's the time factor of doing that.
Diet and exercise?  Really?  With your busy life?
Plus, let's get real here…who really works out 5 days a week?  People with no life, no kids or no job.  Since you don't fall into any of those categories, lets get real about what you can do.  Exercise as much as you can, but still take care of kids, family, work, and even have a life outside of that.
So how do you win the battle of the bulge without surrendering the rest of your life to do it?  COOLSCULPTING!
So what is CoolSculpting?
FREEZE YOUR FAT AWAY SITTING COMFORTABLY IN A LUXURY APPOINTED SPA ROOM WATCHING TV, NAPPING, WORKING ON YOUR LAPTOP O R PHONE.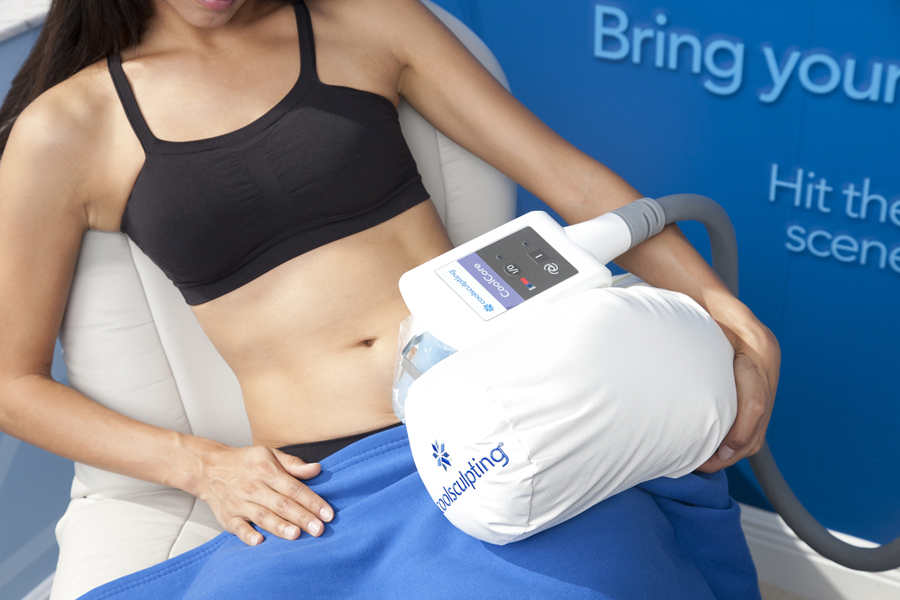 NOW THAT'S MORE LIKE IT!!!

 
How and where do I sign up for that you ask?
Well first the fine print.  If you are looking to lose a lot of weight or fat, this might not be the solution for you.  It's not for obesity and is actually not considered a weight loss procedure.  It's a fat loss procedure!  You lose fat to the tune of 20% on average in the area treated.  While 20% may not sound like a lot, remember its fat you are losing and that is typically enough to flatten out a bulge in most people.  If it's not, you can always treat the area again for another 20% reduction.
It's permanent fat reduction.  Yes, I said permanent.  How you ask?  CoolSculpting eliminates fat cells by causing them to die a natural death, called apoptosis for anyone really interested.  Once those fat cells die, your body does it's natural thing and dissolves and eliminates them.  Fat cells do not replace themselves when they die.  So eliminating those stubborn areas that don't easily respond to your diet and exercise routine, gets them for good.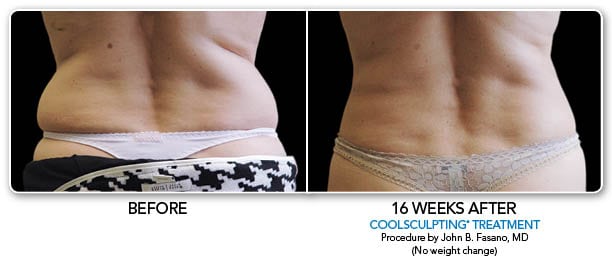 There are a few things you should know about CoolSculpting.
1.  Where you are treated is one of the most important decisions you can make. Experience really does matter!  Not just the office itself, but the person doing your procedure.  All bodies are not built the same. Treating a man's love handles means leaving him with a V-Shape unlike a woman who wants that hourglass curve.  There is an art and aesthetic eye that make CoolSculpting results look great and it takes lots of experience to get that.
2.  The procedure isn't for everyone.  You can't have it if you have too much fat, not that it won't work, you just will need more treatments in each area to get a flat or contoured result.  The cost ends up being more than liposuction surgery in someone too big.  You also can't be too small.  The applicators are like cups that pull the fat up into them and you have to be able to "pinch an inch" or more to be a good candidate for CoolSculpting.
3.  The after effects are minimal discomfort, (think too many sit-ups or crunches) skin numbness in the area treated for a couple of weeks and even some swelling.  Yes, your abs could look worse for a week or two before they begin to look better.  Think of this though, swelling after CoolSculping is like spraining your ankle.  You injured it, your body does what it does best, sends fluid to the area to cushion and protect it while it heals. So the good news, the swelling means those pesky fat cells are injured and that's what you want!
4.  Where you get treated matters.  Yes, I'm saying that again but think of this would you rather be in a room in the back of a doctor's office where earlier that day they did procedures for skin cancer or mole removal and now it's their CoolSculpting room or  luxury spa appointed room?  Doctor's Office Room:  Cold, sterile, doctor's exam or procedure room with no windows: a less than comfortable procedure table with that paper on it and a roll up metal tray your bottle of water sits on and a cup of nuts or trail mix.
Sculpted Contours Luxury Medical Aesthetics room:  4″ thick mattress on an oversized spa bed covered with 600 count sheets, a soft velour blanket, and a memory foam pillow; one full wall of windows overlooking the tree line of Buckhead and Midtown; a spa breakfast of gourmet yogurt and berries or quiche; a spa lunch of grilled chicken on a bed of fresh salad with balsamic vinegar and imported olive oil; Netflix or Cable TV, Pandora music channels all for your enjoyment while you sculpt away your fat!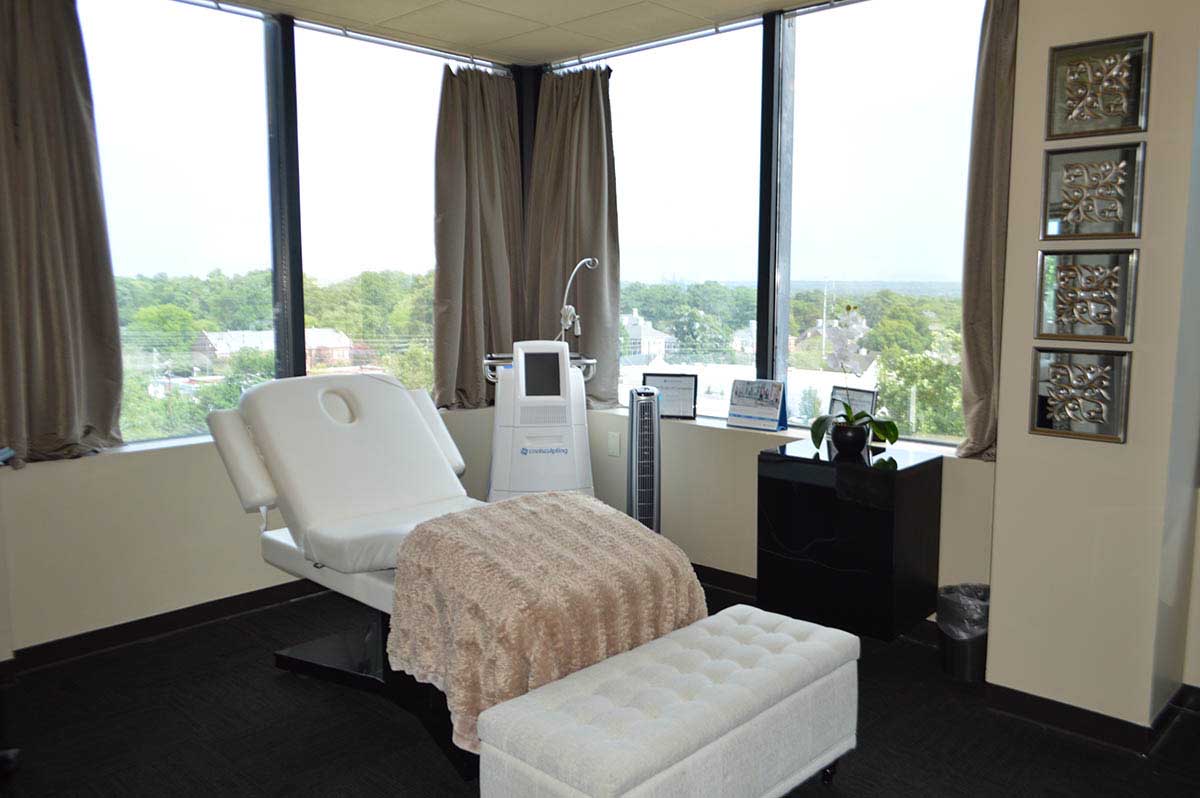 5.  Where you get treated matters.  AGAIN?  Yes, Sculpted Contours is a specialty body sculpting center that specializes in CoolSculpting fat reduction.  We have other procedures too but we focus only on body and facial sculpting and rejuvenation procedures.  Ever heard the saying Jack of all trades, master of none?  Well, we decided to focus and become masters of body sculpting.  We are really good at what we do and because of that experience you get the BEST RESULTS from your CoolSculpting procedure.  Yep, no body does it better!!
6.  Sculpted Contours offers a Contour Commitment with each procedure we do.  While we can't tell all the details until you come in, know this you'll get the results we say you will or we aren't done.  We are so confident in the results we can get you, we back it with our commitment to you.

When you are ready to win the battle of the bulge once and for all, schedule your CoolSculpting with the experts at Sculpted Contours Luxury Medical Aesthetics.
So how do you win the battle of the bulge without surrendering the rest of your life to do it?
COOLSCULPTING!
If you work hard, play hard and live life to the fullest, you barely have time to keep up with it all.  Try adding the gym and dieting to that to control that body fat?
Yeah RIGHT!
How about a comfortable one hour procedure that literally freezes away your fat FOR GOOD!
That's more like it!